All In For Amazon
Inglewood Latest to Acknowledge Bid
Friday, January 26, 2018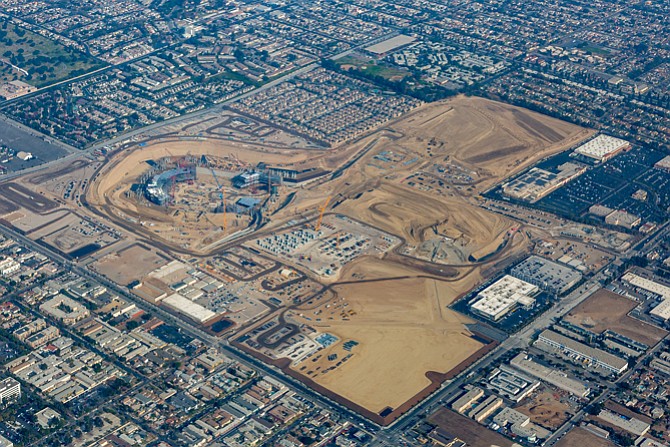 The smart money has L.A. County down as a longshot to land Amazon.com Inc.'s second headquarters.
Make that long shots – as in nine locations with their own ambitions.
More than a few observers were surprised when L.A. made the first cut in Amazon's national search – the only market west of the Rockies to get a nod.
Some more surprises emerged about local efforts to land the deal – which is billed as a $5 billion project that will bring up to 50,000 jobs spread over 8 million square feet of commercial buildings that are close enough to walk between on a minimum 100 developable acres.
Inglewood Mayor James Butts confirmed exclusively to the Business Journal that the planned $3 billion, 298-acre retail, entertainment, commercial and residential development around the Los Angeles Rams football stadium now under construction is one of those the county pitched to Amazon.
"We submitted an application under the aegis of the LAEDC (Los Angeles County Economic Development Corp.)," Butts said. "The Los Angeles Stadium at Hollywood Park development project is the centerpiece of the bid."
The LAEDC, for its part, is keeping the list of sites in the Amazon proposal confidential.
Details are nonetheless emerging about three other sites that have acknowledged their bids publicly – the Pomona Fairplex; Newhall Ranch, a proposed community in Santa Clarita; and the former Rocketdyne land in west San Fernando Valley's Warner Center.
Less is known about five additional sites that the LAEDC – which is the lead agency on the region's overall pitch – forwarded to Amazon in October.
L.A.'s emergence from a roster of 238 initial hopefuls to make the second round of 20 markets has touched off speculation on which of the disparate local proposals could meet Amazon's vast and specific criteria.
Multiple sources the Business Journal interviewed for the story cite the Arts District in the northeast corner of Downtown Los Angeles as harboring a likely spot. That hasn't been confirmed. And Los Angeles Mayor Eric Garcetti earlier this month told KNX Newsradio that there were two sites in Downtown Los Angeles but would not provide any more details.
Contenders?
Early on in the bid process, speculators named other sites that could have been part of the county's proposal – Taylor Yard along the Los Angeles River north of downtown; the old landfill in Carson that was in the running for a National Football League stadium; and the former Toyota Motors Corp. North American headquarters complex in Torrance.
Prev Next
For reprint and licensing requests for this article, CLICK HERE.