All In For Amazon
Inglewood Latest to Acknowledge Bid
Friday, January 26, 2018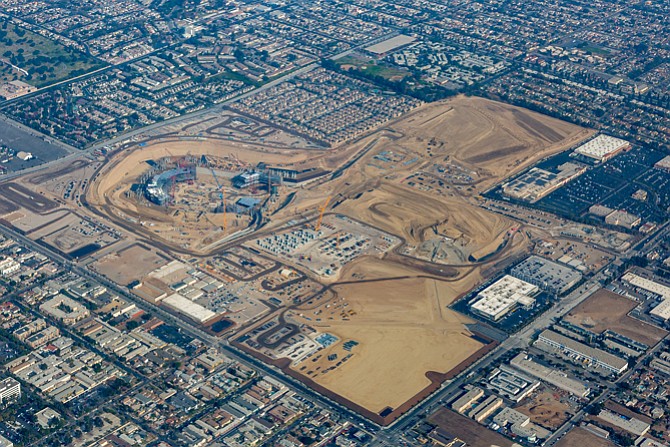 The smart money has L.A. County down as a longshot to land Amazon.com Inc.'s second headquarters.
Make that long shots – as in nine locations with their own ambitions.
More than a few observers were surprised when L.A. made the first cut in Amazon's national search – the only market west of the Rockies to get a nod.
Some more surprises emerged about local efforts to land the deal – which is billed as a $5 billion project that will bring up to 50,000 jobs spread over 8 million square feet of commercial buildings that are close enough to walk between on a minimum 100 developable acres.
Inglewood Mayor James Butts confirmed exclusively to the Business Journal that the planned $3 billion, 298-acre retail, entertainment, commercial and residential development around the Los Angeles Rams football stadium now under construction is one of those the county pitched to Amazon.
"We submitted an application under the aegis of the LAEDC (Los Angeles County Economic Development Corp.)," Butts said. "The Los Angeles Stadium at Hollywood Park development project is the centerpiece of the bid."
The LAEDC, for its part, is keeping the list of sites in the Amazon proposal confidential.
Details are nonetheless emerging about three other sites that have acknowledged their bids publicly – the Pomona Fairplex; Newhall Ranch, a proposed community in Santa Clarita; and the former Rocketdyne land in west San Fernando Valley's Warner Center.
Less is known about five additional sites that the LAEDC – which is the lead agency on the region's overall pitch – forwarded to Amazon in October.
L.A.'s emergence from a roster of 238 initial hopefuls to make the second round of 20 markets has touched off speculation on which of the disparate local proposals could meet Amazon's vast and specific criteria.
Multiple sources the Business Journal interviewed for the story cite the Arts District in the northeast corner of Downtown Los Angeles as harboring a likely spot. That hasn't been confirmed. And Los Angeles Mayor Eric Garcetti earlier this month told KNX Newsradio that there were two sites in Downtown Los Angeles but would not provide any more details.
Contenders?
Early on in the bid process, speculators named other sites that could have been part of the county's proposal – Taylor Yard along the Los Angeles River north of downtown; the old landfill in Carson that was in the running for a National Football League stadium; and the former Toyota Motors Corp. North American headquarters complex in Torrance.
It was not clear as of press time whether any of these sites actually submitted bid proposals.
Amazon reported $136 billion in sales in 2016 and $117.4 billion in revenue for the first three quarters of 2017. The company reported 380,000 full-time and part-time employees as of last year, not including the 87,000 employees at Whole Foods Market Inc., which it acquired last year.
Criteria
Amazon wants to establish its second headquarters in a market with a large high-tech labor force, especially software development engineers, as well as sufficient housing and infrastructure for them. That includes public transportation and an international airport less than a 45-minute drive away, according to the company's list of priorities, with also mentions state and local government incentives.
"I think Amazon has selected Los Angeles County as one of their 20 finalists because of the overall value proposition offered here – the sites are attractive, the talent pool is impressive and the infrastructure – especially LAX and the ports – is relevant to their growth strategy," LAEDC Chief Executive Bill Allen said. "What's more, the creative industries here will be valuable to Amazon Studios' future growth and other aspects of their corporate development."
Amazon has said it expects to make a final decision on a second headquarters site before the end of this year.
Andy Shapiro, managing director in Walnut Creek of site selection firm Biggins Lacy Shapiro, said he expects up to two more rounds before the final decision by Amazon.
"It could take several weeks or even a few months before they reach the next stage," Shapiro said. "No doubt there will be a second round and maybe even a third round."
Newhall Ranch
Those sites that have gone public with their bids have been eager to talk up the merits of their proposals.
The massive Newhall Ranch project north and west of Santa Clarita is the centerpiece of the Santa Clarita bid, according to Holly Schroeder, chief executive of the Santa Clarita Valley Economic Development Corp.
That planned community by developer Five Point Holdings of Aliso Viejo proposes 21,500 homes, 11.5 million square feet of commercial space and seven schools on 15,000 acres. So far, two phases have been approved by the Los Angeles County Board of Supervisors.
The site would give Amazon considerable leeway to design its headquarters space and plenty of new housing, all meeting the latest in green building and design standards, Schroder said, with cheaper housing available less than 30 minutes away around Palmdale.
The biggest drawback would be the 45-plus minute drive to Los Angeles International Airport, she added.
"If that's truly a bright line, then we probably wouldn't meet that requirement," Schroder said. "But we're less than 30 minutes from (Hollywood) Burbank Airport and there are oodles of non-stop flights from there to Seattle."
Inglewood
Inglewood's site is the L.A. Stadium & Entertainment District at Hollywood Park project, which has been driven by Los Angeles Rams owner Stan Kroenke and rising as a joint-venture with developer Wilson Meany and investor Stockbridge Capital, both of San Francisco.
The project, which has broken ground, will include 2,500 apartments, 550,000 square feet of retail space, a 300-room hotel, a 120,000-square foot-casino and 890,000 square feet of office space near the stadium. Its delivery timeline is 2023.
Amazon would likely have to draw from other space nearby to reach its projected 8 million square feet of headquarters space and estimated needs for employee housing if it were to choose Inglewood.
The city's transportation links are likely the best of the local bunch. The city is a 10-minute drive from LAX, and the Crenshaw-LAX light rail line that's under construction will have three stops in the city.
Pomona/Fairplex
On the other side of the county is the Fairplex, home of the Los Angeles County Fairgrounds. The facility is part of a joint bid – called Amazon Polyplex – by the city of Pomona, the Fairplex, California Polytechnic University Pomona and the county of Los Angeles.
Miguel Santana, chief executive of the Los Angeles County Fair Association, a private nonprofit that manages the nearly 500-acre Fairplex, touted the site's central location in the Los Angeles basin.
"We're at the crossroads of L.A. County, Orange County and the Inland Empire," he said.
There's a Metrolink regional rail stop already at the Fairplex, with a Metro Gold Line station now under construction right next door and expected to open in 2022.
Santana noted that Ontario International Airport is a 20-minute drive from the site; that airport now has nonstop flights to Latin America and starting in March will offer its first nonstop service to Asia with daily China Airlines flights to Taiwan (see related story, page 4).
Another strength, Santana said, is Cal Poly Pomona, one of the few, if not the only, educational institutions directly involved in a bid.
"Cal Poly Pomona is an engineer factory – it produces more engineers than almost any other campus in California and exactly the type of hires Amazon is looking for," he added.
Warner Center/Rocketdyne
Local officials have also been trying to lure development to the old Rocketdyne rocket facility at Victory Boulevard and Owensmouth Avenue in Warner Center. The 47-acre site is owned by United Technologies Corp. of Farmington, Conn., which tried unsuccessfully to move forward a largely residential redevelopment plan and has since put the property on the market.
Los Angeles Councilman Bob Blumenfield, who represents the area, pushed for the site to be included in Los Angeles' Amazon bid.
The site is across the street from two Westfield Corp. shopping malls.
For reprint and licensing requests for this article, CLICK HERE.