Hope Bancorp to Close Some Branches, Retain Small Business Loans, as Part of Strategic Initiative
Thursday, December 27, 2018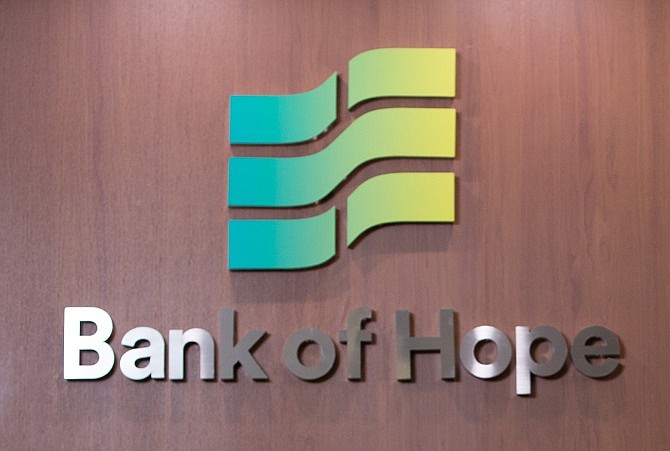 Koreatown-based Hope Bancorp Inc. announced plans to close nearly 10 percent of its branches over a swath of its nine-state territory as well as cease selling off its small business loans into a secondary market as a way to improve its profitability, the company announced Thursday.
The two strategic moves are part of the $15.2 billion-in-asset institution's wider plan to cut costs and reduce expenses following its July 2016 formation through a merger of BBCN Bank and Wilshire Bank.

Angie Yang, senior vice president and director of investor relations for Hope Bancorp, the parent of the Bank of Hope, said that up to six of the bank's 63 branches would be shuttered "next month or before," across its nine-state region where it currently operates.
Bank of Hope has branches in California, Washington, Texas, New York, New Jersey, Illinois, Virginia, Alabama and Georgia.
The layoffs in connection with the branch closings are "not significant," but could affect from four to 10 employees at each branch, though many may be shifted to other geographically close branches as part of an efficiency move, Yang explained.
The company anticipates incurring a one-time pre-tax charge of about $1.7 million in the fourth quarter ending Dec. 31 in connection with the "branch rationalization plan," she said.
Projected savings are expected to be $1.9 million on a pre-tax annual basis, with the initial benefits to be recognized beginning in the second quarter, starting April 1.
The banking institution also said that it plans to temporarily discontinue its practice of regularly selling the small business loans guaranteed by the U.S. Small Business Administration under its 7(a) program, into a secondary market.
The SBA 7(a) program lets small business borrowers obtain loans up to $5 million to fund startup costs, purchase new land, refinance existing debt, and buy machinery, furniture and other equipment.
Early in the 2018 fourth quarter that began Oct. 1, the company sold $10.2 million of its SBA loans held for sale and recognized net gains on sale of SBA loans of $447,000. "Given the continuing reduction in the premiums available in the secondary market, the company plans to retain its production of SBA 7 (a) loans in its portfolio going forward until such time when the premiums become more attractive," the company said in its press release issued Dec. 27.
"The company expects that retaining the SBA loans in its portfolio, which tend to have higher interest rates and are all variable rate, will have a positive effect on its overall loan yields, net interest margin and growth in interest income," according to the release.
Christopher McGratty, banking analyst with Keefe Bruyette & Woods, wrote in a research note that the announcement by Hope Bancorp is "neutral to slightly dilutive to near-term earnings."

Hope Bancorp shares closed Thursday at $11.77, down 40.7 percent from its year high of $19.86 on Jan. 31.
Finance reporter Pat Maio can be reached at pmaio@labusinessjournal.com or (323) 556-8329.
For reprint and licensing requests for this article, CLICK HERE.