Fair Raises $385 Million, Led by SoftBank
Thursday, December 20, 2018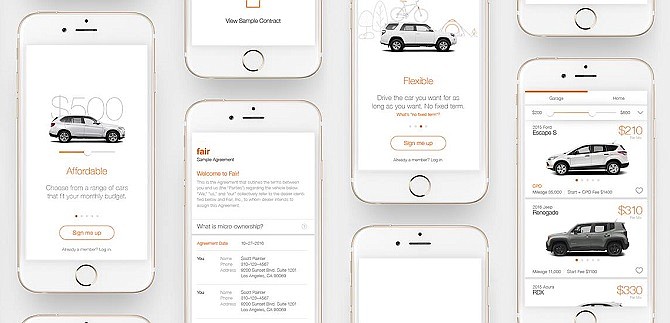 Car leasing and financing provider Fair announced Dec. 20 it completed a $385 million Series B round, led by SoftBank Group Corp. Following this round, Fair now has access to nearly a $1 billion in debt capital since its 2016 founding and has raised over $500 million in equity to date.
Based in Santa Monica, Fair provides a smartphone app that lets users choose and lease a car Fair owns and provides financing options for the lease. Users pay a monthly fee for a Fair car, which comes equipped with roadside assistance and a limited warranty. Fair drivers have the option to purchase insurance from Fair, up to a $500 deductible for an additional $115 per month.
Its existing investors include Moonshots Capital, based in Marina del Rey, and San Francisco-based investors Sherpa Capital and BMW i Ventures. New investors joining Fair this round include Penske Automotive Group, G Squared Capital and CreditEase Corp.
"Fair provides a simple and affordable way for people to get access to a car for personal use, ridesharing or carsharing," said Lydia Jett, senior investor at SoftBank Investment Advisers. "This investment will enable Fair to provide cars on a global scale and help reduce the barriers to mobility. We believe it unlocks tremendous value for customers and will create new partnership opportunities across the transportation industry more broadly."
Since its launch in August 2017, Fair reports more than 20,000 drivers have signed up to lease a car, networking with over 3,000 dealer partners in 26 U.S. markets. A partnership with Uber Technologies Inc. solidified in February 2018 ensures potential rideshare drivers can access Fair in the Uber app to choose a car they want and drive it on a weekly basis for a $35 fee, with no commitment.
"We're in the midst of a transformational shift as consumers choose access to services over ownership," said Fair Chief Executive Scott Painter. "This financing signals that Fair will be a critical and enduring component of this transition in mobility as we replace the decades-old, debt-based system of car-buying with a payments platform that's simple, affordable and flexible."
Overall, it's been a robust 2018 for Fair's estimated 350 employees. A spokeswoman for the company said Fair is experiencing 40 percent month-over-month customer growth as of September 2018.
This year brought several acquisitions for Fair. In January 2018, Fair bought Uber's Xchange Leasing business for an undisclosed sum, and also purchased the intellectual property assets of rental car delivery service Skurt Inc., based in West Adams.
"The simplicity and flexibility of Fair's model will unlock new levels of opportunity for drivers who want to earn money with Uber," said Uber Chief Product Officer Manik Gupta. "We are excited to expand our partnership with Fair and help more people around the world access opportunities to work and earn on their own schedule."
Tech reporter Samson Amore can be reached at samore@labusinessjournal.com or (323) 556-8335. Follow him on Twitter @samsonamore.
For reprint and licensing requests for this article, CLICK HERE.