Wow Air Announces End to Nonstop Service from LAX to Iceland
Wednesday, December 19, 2018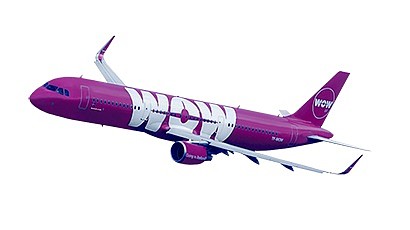 Financially troubled Icelandic discount airline Wow Air has announced it will end its nonstop service from Los Angeles International Airport to Reykjavik, Iceland effective Jan. 19.
The termination was announced as part of a restructuring of the airline that involves the layoff of more than 100 employees and the reduction of its total fleet to 11 aircraft from 20 aircraft; besides LAX, the airline is cutting seven other routes. Wow Air reported $35 million in operating losses for the first nine months of 2018, much more than $4 million for the same period a year earlier. The company is in talks with Phoenix-based Indigo Partners for a $75 million lifeline investment.
Wow Air which was founded in Reykjavik in 2011 as a discount no-frills airline; its aircraft are a distinct purple color. Its LAX service launched just over two years ago in summer 2016 as part of a major expansion. But rising fuel prices and an overcapacity of seats on discount airlines have since cut into operating margins, forcing several rounds of cutbacks this year.
Education, energy, engineering/construction and infrastructure reporter Howard Fine can be reached at hfine@labusinessjournal.com. Follow him on Twitter @howardafine.
For reprint and licensing requests for this article, CLICK HERE.