PRIME PROPERTY
Last-mile delivery distribution centers move markets
Friday, December 14, 2018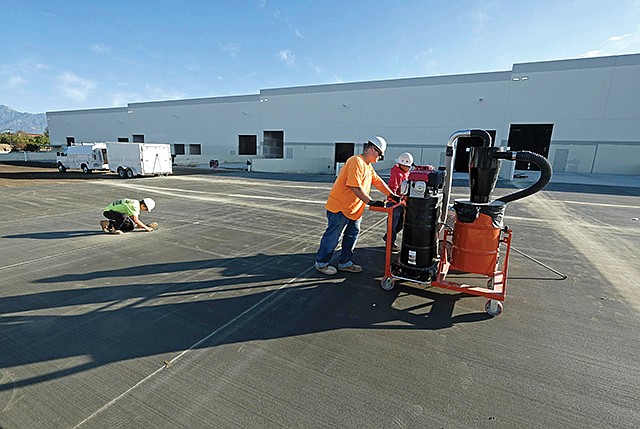 What they say is true: When it comes to real estate, it's all about location, location, location.
That adage became especially relevant in 2018 in regards to last-mile distribution centers, demand for which has increased as online merchants promise faster – often same-day – shipping. These centers are typically smaller industrial facilities in urban areas that can be as little as 20,000 square feet but are often much larger.
Finding properties that fit the bill can be difficult as proximity to freeways and whether surrounding roads can accommodate large trucks and trailers have to be factored in.
"It has to be a great infill location, close to the freeways and have good infrastructure to accommodate truck movement on city roads," said Alex Filler, finance and acquisition director for Dedeaux Properties. Infill refers to redevelopment in desirable areas.
"Any infill location that has good access to freeways and good infrastructure, to us that's like beach-front property," Filler added.
As demand for warehouse space rises, around 3.9 million square feet of industrial space is currently under construction in L.A. County. But even with new properties coming online, "the market remains severely space constrained due to a combination of a resurgence in occupier demand for infill industrial properties and lack of land sites on which to develop," according to a Transwestern report on L.A.'s third quarter industrial market. Around 76 percent of the 1.4 million square feet completed during the third quarter was preleased or sold to owner-users.
The rising demand for industrial space is driven by e-commerce, which has led to the need for more last-mile distribution centers, according to industry experts.
"Industrial is the new retail," said Bret Hardy, the executive managing director at Newmark Knight Frank. "(People) want to be able to have their buying experience while sitting at the comfort of their own room, yet they want their products to be delivered in a two- to four-hour window."
This has led to retailers investing in warehouses to ensure their goods get to customers in a speedy fashion.
"The idea is to have infill warehouses that have the most frequently purchased items close to densely populated areas," Filler said. 
Dedeaux Properties, which acts as a landlord, works with dry goods; cold storage, for meal kits for example; and third-party logistics companies. The company also does some ground-up development, customizing buildings to fulfill tenant needs.
Many of their current developments are in the Inland Empire. One of their most recent L.A. properties was a rehabbed property in Compton that was leased to a third-party logistics company.
"We're having a hard time finding these properties because there is such a shortage of them available," Filler said.
Space constraints
There are some unique challenges that come with finding urban property to serve as last-mile warehouse hubs.
Finding industrial spaces with room for large trucks, for example, is not an easy task.
"We don't have any land (or) the ability to deliver much new product in the market," said Howard Schwimmer, co-chief executive at Rexford Industrial. "Last mile has really become locational. You search for the most functional building in the location you want to be in and settle."
The most important thing for last-mile distribution facilitates is loading capability.
Schwimmer said freestanding buildings work best. Last year, Rexford bought a 143,346-square-foot building in Inglewood. FedEx Corp. is a tenant of the building, which was designed to have 20 to 25 loading spots. FedEx wanted ground level doors to bring trucks directly into the building, so the facility was modified to have two with the rest at ground level.
Steve Bohannon, a senior director at Cushman & Wakefield Inc., said companies are looking for dock-high loading for inbound products and ground level for outbound products leaving in cars and vans as companies outsource delivery.
It is also very difficult, Schwimmer and Filler said, to find places that allow trailer parking.
While these facilities need parking year-round, they need an even larger amount to accommodate demand during the holidays.
"A lot of these facilities get really busy during the holiday season, so they need the capability of having many more seasonal employees," Bohannon said.
The same locations that are desirable for industrial uses are also desirable for other uses.
"The market is out of land," Schwimmer said. "We are losing our industrial supply because industrial is the lowest-cost land − even with a building on it − compared to retail, hotels and apartment lofts."
Since 2001, more than 100 million square feet of industrial product have been lost in Southern California infill markets, Schwimmer said. That's driven rates up.
Adding value
In the first three quarters of 2018, there have been $2.9 billion in industrial sales, up 33 percent from the first three quarters of 2017, according to Transwestern data.
Most of the product, Hardy said, was built in the 1970s or 1980s and needs substantial upgrades.
"When we buy a property, we typically will modernize and renovate it, and cure any functional obsolescence and deliver back to the market the highest-quality property," Schwimmer said.
Rexford has acquired 24 properties in Southern California this year, for a total of $455 million, Schwimmer said. The company has roughly a total of 21 million square feet of industrial property in Southern California.
Most of the properties Rexford purchased this year have land available for truck and container parking, something Schwimmer said there is a real shortage of.
Recent purchases for Rexford include a 695,000-square-foot industrial building in Commerce for $121 million and a 55,238-square-foot trucking and container warehouse facility in Carson for $16.1 million. The Commerce building is on nearly 36 acres of land. It has 118 cross-dock loading positions and can house up to 435 containers on excess land.
Rexford works to make buildings safe for stacking, add more loading and sometimes even tear down pieces of buildings to improve loading.
Newmark Knight Frank recently brokered a $24.52 million deal for a vacant 116,450-square-foot warehouse and manufacturing facility in Vernon. The seller, Sandberg Furniture Manufacturing Co., and the buyer, a fund managed by Clarion Partners were both represented by NKF.
Forward look
The vacancy rate of industrial facilities in the third quarter was 1.5 percent, according to Transwestern. The group expects vacancy rates to stay below 2 percent and rental rates to grow 5 to 10 percent annually if there is no economic slowdown.
"We continue to see all of the industrial demand drivers point in the right direction," NKF's Hardy said. "We see rental rates continue to increase. We're expecting to see more of the same into 2019, but we think there is going to be a lot of pressure on these e-commerce companies and their ability to expand."
But Schwimmer said some developers are becoming more cautious because the stock market has been flat, oil prices have been down, interest rates are up, and there are concerns over a potential trade war.
"The consensus from a lot of the people developing product is they want to get it up and get it running, and don't want any risk beyond 2019," he said. "There's a lot of fragility in the economy, and anything can be a tipping point. Smart people in the real estate business are thinking about controlling their risk."
For reprint and licensing requests for this article, CLICK HERE.