USC Board of Trustees Upholds Decision to Remove Marshall School Dean
Originally published December 9, 2018 at 9:01 p.m., updated December 12, 2018 at 2:49 p.m.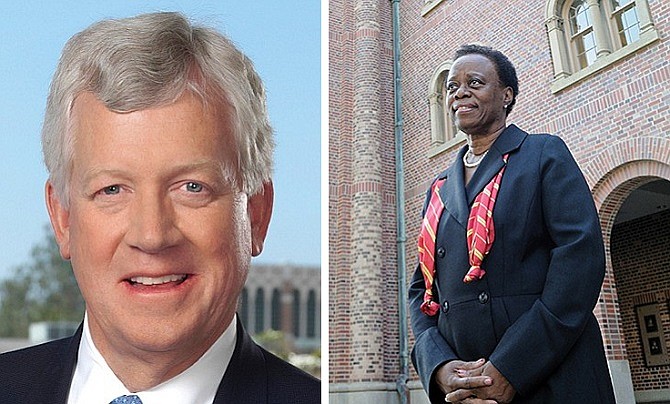 The USC Board of Trustees on Wednesday voted to uphold interim President Wanda Austin's decision to remove Marshall School of Business Dean Jim Ellis from the post, effective in June, according to a statement from the university.
Meeting in closed session, the board "discussed the issue at length and overwhelmingly passed" a resolution supporting Austin's decision, the brief statement read.
Austin last month decided to remove Ellis from the dean's post – effective at the end of the academic year in June – over his handling of sexual harassment and discrimination claims involving Marshall School faculty.
Ellis' ouster as dean set off an internal power struggle at the university over the decision. Prominent business school donors have spoken publicly in support of Ellis, whose term at dean was supposed to last another three years past the end of the 2018-19 academic year.
There has so far been no discussion of a search for a replacement dean for the Marshall School.
"This is a sad day for USC," said Lloyd Greif, chief executive of Greif & Co., a middle-market investment firm and a major donor to USC. Greif is also the benefactor of the Marshall School's Lloyd Greif Center for Entrepreneurial Studies and a member of the Marshall School Board of Leaders, an advisory group of 116 business executives; he has been a supporter of Ellis remaining as dean.
"The trustees effectively rubber-stamped a decision made with lack of transparency, due process and due diligence," Greif added. "Dean Ellis has done nothing wrong and has been one of the best deans in the school's history, especially when it comes to diversity. Just look at the facts: there are more women students proportionately at the Marshall School than at any other major business school in the country. The same for under-represented minorities."
Louis "Skip" Miller, partner with Century City law firm Miller Barondess who is representing Ellis, said the board's decision was "surprising and disappointing."
"This is the same board that reappointed him as dean in October and gave him a performance bonus and didn't say one word about these issues," Miller said. "It's mystifying and unfortunate."
Miller said he and his client Ellis have not yet decided on any next steps, including whether to pursue legal action against the university.
Education, energy, engineering/construction and infrastructure reporter Howard Fine can be reached at hfine@labusinessjournal.com. Follow him on Twitter @howardafine.
For reprint and licensing requests for this article, CLICK HERE.