MAYNE ATTRACTION
Architect Thom Mayne has helped raise L.A.'s profile as a design leader
Friday, August 31, 2018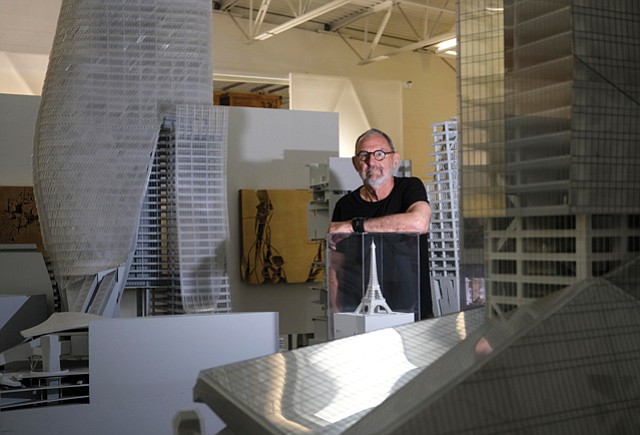 It's a no brainer: When designing a new building, any architect would plan to have the elevator stop on every floor, right?
Not Thom Mayne.
Mayne, 74-year-old winner of the prestigious Pritzker Architecture Prize, co-founder of the Southern California Institute of Architecture (SCI-Arc) in downtown, founder of Morphosis architecture firm in Culver City, Distinguished Professor at UCLA's School of the Arts and Architecture, decided his Federal Building in San Francisco should have "skip stop" elevators that stop on alternate floors to encourage riders to walk up, or down, one flight to their destination, creating more connection and openness.
According to admiring reviews of that 2007 structure, Mayne borrowed the skip-stop system from Modernist architect Le Corbusier, who invented the system for his 1952 Unité d'Habitation building in France.
The fact that Mayne was able to upend the norm, especially in a government building, remains a source of delight and amusement for Craig Hodgetts of Culver City architecture firm Hodgetts + Fung.
"When most architects go very passively into reinforcing whatever the corporate dictums of their (projects) are, Thom always challenges those, with the U.S. government, with museum directors," Hodgetts said. "He lays down a kind of interrogation of that norm that results in a new paradigm."
Christopher Hawthorne, former Los Angeles Times architecture critic who recently became chief design officer for the city of Los Angeles, said Mayne's most important legacy will likely be taking Morphosis from small, idiosyncratic residential or retail design to civic work on a massive scale.
"Among the so-called L.A. architects that emerged in the 1980s, only (Walt Disney Concert Hall architect) Frank Gehry's office joined Morphosis' office in making this leap," Hawthorne said in an e-mail. "It was all the more surprising in Mayne's case because early on he seemed such an unlikely candidate to do so. His architecture was as barbed and aggressive as his personal style."
Mayne is about to launch another civic centerpiece: In May, the Orange County Museum of Art in Newport Beach unveiled Mayne's design for its new building at Segerstrom Center for the Arts in Costa Mesa, to open in 2021. On a recent visit to Morphosis, Mayne called the new museum the last increment in a center dominated by performing arts venues. He said the museum's location will connect visual arts devotees to the performing arts, and vice versa.
"It's a cultural institution in a city in formation," Mayne said. "It's part of city-making, an urban cultural complex."
Prev Next
For reprint and licensing requests for this article, CLICK HERE.
Stories You May Also Be Interested In