MAYNE ATTRACTION
Architect Thom Mayne has helped raise L.A.'s profile as a design leader
Friday, August 31, 2018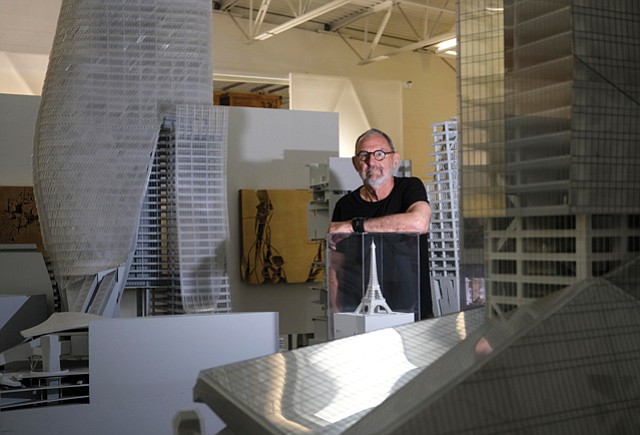 It's a no brainer: When designing a new building, any architect would plan to have the elevator stop on every floor, right?
Not Thom Mayne.
Mayne, 74-year-old winner of the prestigious Pritzker Architecture Prize, co-founder of the Southern California Institute of Architecture (SCI-Arc) in downtown, founder of Morphosis architecture firm in Culver City, Distinguished Professor at UCLA's School of the Arts and Architecture, decided his Federal Building in San Francisco should have "skip stop" elevators that stop on alternate floors to encourage riders to walk up, or down, one flight to their destination, creating more connection and openness.
According to admiring reviews of that 2007 structure, Mayne borrowed the skip-stop system from Modernist architect Le Corbusier, who invented the system for his 1952 Unité d'Habitation building in France.
The fact that Mayne was able to upend the norm, especially in a government building, remains a source of delight and amusement for Craig Hodgetts of Culver City architecture firm Hodgetts + Fung.
"When most architects go very passively into reinforcing whatever the corporate dictums of their (projects) are, Thom always challenges those, with the U.S. government, with museum directors," Hodgetts said. "He lays down a kind of interrogation of that norm that results in a new paradigm."
Christopher Hawthorne, former Los Angeles Times architecture critic who recently became chief design officer for the city of Los Angeles, said Mayne's most important legacy will likely be taking Morphosis from small, idiosyncratic residential or retail design to civic work on a massive scale.
"Among the so-called L.A. architects that emerged in the 1980s, only (Walt Disney Concert Hall architect) Frank Gehry's office joined Morphosis' office in making this leap," Hawthorne said in an e-mail. "It was all the more surprising in Mayne's case because early on he seemed such an unlikely candidate to do so. His architecture was as barbed and aggressive as his personal style."
Mayne is about to launch another civic centerpiece: In May, the Orange County Museum of Art in Newport Beach unveiled Mayne's design for its new building at Segerstrom Center for the Arts in Costa Mesa, to open in 2021. On a recent visit to Morphosis, Mayne called the new museum the last increment in a center dominated by performing arts venues. He said the museum's location will connect visual arts devotees to the performing arts, and vice versa.
"It's a cultural institution in a city in formation," Mayne said. "It's part of city-making, an urban cultural complex."
He added that Orange County, long considered to be L.A. County's more conservative sibling, is undergoing radical social change.
"It's getting pluralistic, it's what L.A. is," he said. "It's the American prototype, in a way."
L.A. pedigree
Mayne is perhaps best known in L.A. for downtown's CalTrans District 7 Headquarters, featuring a so-called intelligent skin that opens and closes in reaction to heat and light, and an outdoor lobby covered with neon tubing meant to evoke highway headlights. He also is the man behind CalTech's Cahill Center for Astronomy and Physics, and, more recently, Boston-based Emerson College's L.A. campus in Hollywood.
Mayne talks when prodded about the Orange County project, his Los Angeles area buildings, or any number of high-profile Morphosis endeavors around the globe, including the new Hanking Center Tower in Shenzhen, China, which Morphosis said represents the tallest steel structure in that country.
But it takes no prodding at all for Mayne to skirt his own award-winning design models to proudly point out the design work of 10-year-old students in Bridgeport, Conn., created as part of one of his pet programs, Turnaround Arts. The national program, sponsored by the President's Committee on the Arts and Humanities, provides arts education to underserved elementary and middle schools across the country.
Mayne said the kids are quicker to grasp sophisticated concepts such as abstraction and differentiation than many adults. "It's a great age," he said. "Their computer skills are over the top.
"A lot of them said this was the first thing they ever did that was theirs," Mayne continued. "For me, I was born with certain visual, artistic interests, and normative school wasn't interesting for me. It wasn't set up for me.
"It's been interesting to remind myself of my own disconnects," he added. "I get it."
Global reach
Surprisingly, an architect who represents L.A. to the world said he feels a certain disconnect with the city. Born in Connecticut and raised in greater Los Angeles from age 10, Mayne also maintains a home in New York City, where Morphosis has a second headquarters.
"About 50% of my work is in other countries, and 80 percent of work is out of the country, all really strong, innovative stuff," Mayne said. "It's in Korea, it's in China. I live here, but I'm kind of detached. People see a kind of looseness and relaxedness about our work that they associate with L.A. and its architecture schools.
"I probably shouldn't say it, but, I'm 74, I'll say what I want," Mayne said with a wry chuckle. "I'm an L.A. architect, but I'm much more connected to other cities around the world."
Observers say that, while Mayne may consider much of his best work to be found a long way from L.A., his influence is felt in buildings worldwide because of the continual pilgrimage of international architecture students eager to capture L.A.'s futuristic magic at USC, UCLA and SCI-Arc.
"Thom has a profound influence on SCI-Arc and UCLA in terms of their impact on students," Hodgetts said. "You would think that a Pritzker Prize-winning architect would not have time to sit down with a group of students and criticize and work with them on a weekly or even bi-weekly basis, but he does."
Richard Koshalek, arts consultant and former director of downtown's Museum of Contemporary Art (MOCA) believes Mayne's influence, both here and elsewhere, may ultimately be less about individual structures, more about infrastructure. The two collaborated on the urban think tank L.A. Now, and Koshalek is an admirer of Mayne's recent work at UCLA proposing a plan for greater density along the Wilshire Corridor.
"He's what we might call an alchemist of the future," Koshalek said. "He's not just dealing with singular structures, he's dealing with massive urban ideas and concepts. Most architects don't do that…His creative solutions have great potential to inspire others, and to promote greater awareness of what L.A. is."
And, despite feeling some L.A. disconnect, Mayne remains fascinated by the city nobody seems to quite understand.
"L.A. remains a place of incredible potential," Mayne mused. "I think maybe it's because it's a city that somehow maintains this status of looking for its future, and looking for its potential. It never arrives…it makes it a really vibrant arena for an architect."
For reprint and licensing requests for this article, CLICK HERE.
Stories You May Also Be Interested In