Santa Monica Selects Scooter Companies for Shared-Mobility Pilot
Thursday, August 30, 2018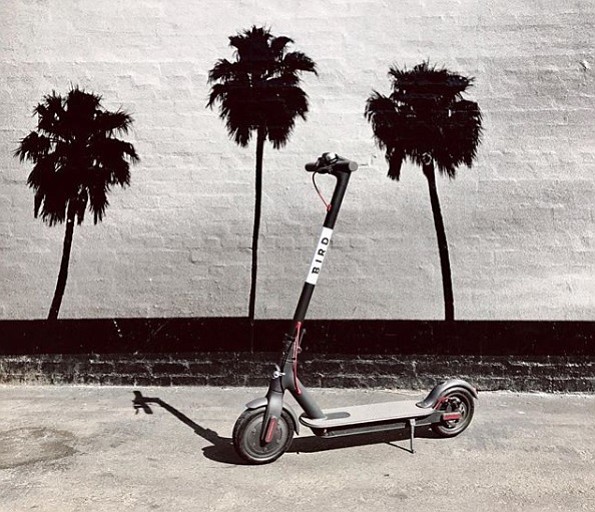 Electric scooter manufacturer Bird Rides Inc. announced Aug. 30 it is one of the official participants in Santa Monica's shared mobility pilot program. The program will begin Sept. 17 and will conclude December 2019. The program includes not only Bird, but scooter manufacturer Neutron Holdings Inc., which manufacturers and operates Lime Scooters, as well as e-scooters and e-bikes operated by Uber Technologies Inc. and Lyft Inc.
Santa Monica-based Bird was engaged in a seemingly uphill battle over operations in its hometown just two weeks ago, deactivating devices for a "day without scooters" in conjunction with Lime and encouraging riders to lobby city hall to select Bird for the pilot program. In February 2018, Bird agreed to pay over $300,000 in fines to Santa Monica's city attorney for launching in the city without a permit.
As of June 28, Bird had raised a total $415 million, with $300 million from Menlo Park private equity firm Sequoia Capital. Lime, headquartered in San Mateo, is worth a reported $467 million as of July 9, when it raised $335 million led by GV Ventures.
A city memorandum reports Bird and Lime will operate 750 e-scooters in Santa Monica, while Uber and Lyft will each operate 250 e-scooters and 500 e-bikes. Lime reportedly requested an e-bike allocation as well, but was denied because "demonstrated experience in Santa Monica suggests that their e-bike operation is not particularly robust," said Santa Monica Director of Planning and Community Development David Martin, who led the review.
The pilot program ranked a total of eight operators, including Cerritos-based Razor USA, which launched an electric scooter fleet in Long Beach on Aug. 2 but was not selected for the pilot program because it wasn't deemed able to launch within 30 days of selection.
In total, the program includes 3,000 devices, 2,000 of which are e-scooters. Santa Monica Public Information Officer Constance Farrell said the city believes the programs will complement, not convolute the city's existing Breeze Bike-share program (operated by Santa Monica-based CycleHop).
"Santa Monica for many years has been really committed to being a multi-modal city and offering as many options for people as possible with the goal of reducing impacts on environment and congestion and getting people out of their cars and this pilot program is the next step," Farrell said.
Chief executive of Bird Travis VanderZanden said the company is "honored to have called Santa Monica our home since we first launched shared electric scooters less than 12 months ago," and has "a shared mission of reducing congestion and emissions, and look forward to continuing partnering with the City and to serve our community."
Martin said the city is looking forward to the program and "the selected companies bring a wide range of local, national and international experience that will contribute to a comprehensive and informative pilot program."
Alongside following and promoting helmet use and safety regulations, each operator must also demonstrate willingness to "meet with community groups and engage in public outreach efforts," Martin said.
Tech reporter Samson Amore can be reached at samore@labusinessjournal.com or (323) 556-8335. Follow him on Twitter @samsonamore.
For reprint and licensing requests for this article, CLICK HERE.