Razor Scoots to Long Beach
TRANSPORTATION: Works with city on pilot program
Friday, August 10, 2018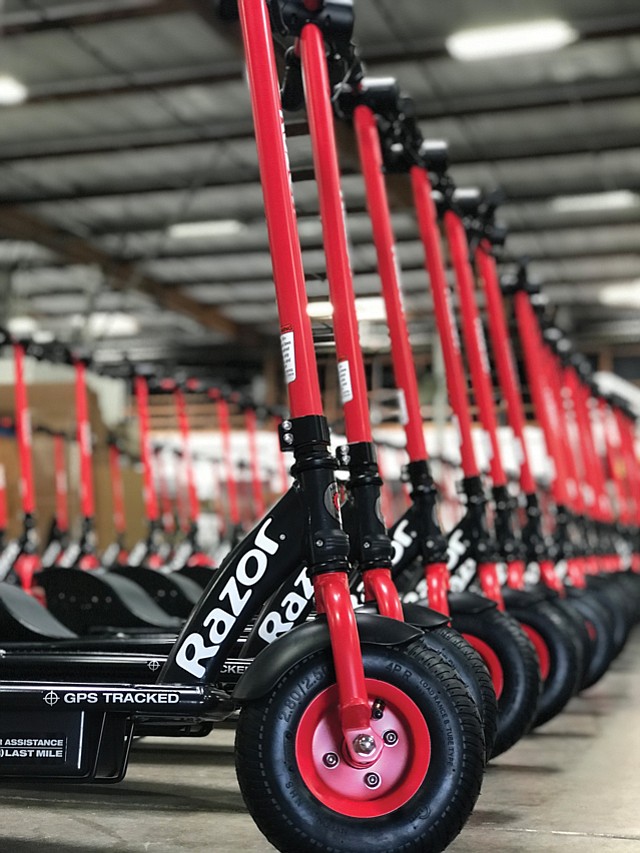 The company whose brand became synonymous with folding kick scooters is wheeling its way into Long Beach with an electric model as part of a shared transportation initiative.
Cerritos-based Razor USA announced August 2 its first foray into the shared electric scooter market – where riders can get access to the dockless vehicles through an app, with a flat fee and additional per-minute charges. The company became the first dockless e-scooter company to operate in Long Beach when it spread approximately 150 scooters on sidewalks across the city as part of the three-month pilot program.
The move comes as electric scooters surge in popularity. Companies such as Santa Monica-based Bird Rides Inc. and Neutron Holdings Inc., which operates Lime Scooters, are scattering scooters in neighborhoods and cities across Los Angeles County. The push – profit-driven motives aside – is part of a movement to solve the so-called last-mile transportation conundrum, where commuters, tourists and others have difficulties navigating the final stretch of terrain to their destinations via current public transportation options.
Razor's Chief Operating Officer Danny Simon said the company has worked closely with the City of Long Beach for about two months to gain approval there, and put standards in place aimed at ensuring its scooters will be used safely during the initial pilot.
"We wanted to maintain a close relationship with them and we've been keeping them informed every step of the way," said Simon, who hopes at the end of the pilot to win a permit extension for Razor.
Razor charges a base fare of $1 and an additional 15 cents per minute for scooter use – the same rate Bird and Lime charge in other areas. Simon declined to give specifics about the company's financial commitments to the scooter program, or any details about the cost of operating in Long Beach. He said the company has applied for operation permits in Santa Monica and San Francisco and is "closely watching Los Angeles."
Citizen concerns
The scooter boom has been controversial in the Los Angeles area. Safety concerns and scooters strewn about on public right of ways have been among the chief complaints by citizens and lawmakers alike. Few – if any – laws exist regulating these companies or their users.
Temporary moratoriums on the dockless electric scooters have been imposed by municipal authorities in several cities in the area, including Beverly Hills, Santa Monica and West Hollywood. Los Angeles City Councilmember Paul Koretz wants to ban indefinitely all scooters in the County's largest municipality until a full slate of regulations are implemented.
Prev Next
For reprint and licensing requests for this article, CLICK HERE.