Corporate Gifts Grow in L.A.
PHILANTHROPY: 9.6% hike outpaces national rate
Friday, August 10, 2018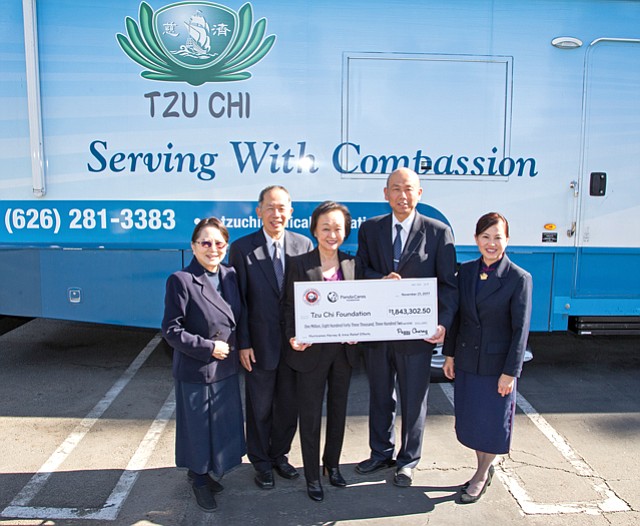 The most active companies and corporate foundations collectively donated nearly $142 million to Los Angeles County charities last year, a 9.6 percent annual increase.
The boost in generosity from the top 25 companies on the Business Journal's annual list of corporate philanthropy – ranked by monetary donations to local charitable organizations – exceeds the national pace. Donations by corporate foundations throughout the U.S. grew by 8 percent in 2017 to $20.8 billion, according to an annual report on charitable giving by Chicago-based nonprofit Giving USA.
Giving USA cited robust stock market gains and a growing economy as principal factors behind the increase.
San Francisco-based Wells Fargo & Co. led the list of donors to causes in L.A. County despite reducing its donations here by nearly 5 percent to $18.2 million. The rest of the top five corporate philanthropists maintained their ranking from 2016. Overall, 15 companies increased their giving, while seven saw reductions, with three flat from the year prior, according to Business Journal estimates.
Top-ranked Wells Fargo's Luis Gonzalez, who serves as the bank's executive vice president for community relations for the L.A. area, attributed the drop in giving in L.A. County to a decision to shift more resources to the Inland Empire.
"We did an assessment of critical needs in the areas of affordable housing and workforce development and found a larger unmet need in the Inland Empire than in Los Angeles," Gonzalez said. "So, we shifted some resources to the Inland Empire to bring it more in line with (what we give to) the rest of the region."
Burbank-based entertainment giant Walt Disney Co. grew its local donations by 37 percent to $17.9 million.
"Our support for this area started more than 90 years ago with Walt Disney, and we are proud to continue it today through both cash contributions to charitable organizations and the volunteer efforts of our employees," a spokesman said in an email to the Business Journal.
Storm effect
No. 5 Panda Restaurant Group increased its donations to local charities 18 percent last year to $11.9 million.
Winnie Chan, director of the Panda Charitable Foundation, said the company launched a major fundraising drive after hurricanes hit Texas, Florida and Puerto Rico last year. Chan said the company made the donations while also handling fallout of its own, with a number of Panda Express locations damaged and having to close during and immediately after the storms.
For reprint and licensing requests for this article, CLICK HERE.
Prev Next