Homelessness Policy Research Institute Launched at USC
Tuesday, April 24, 2018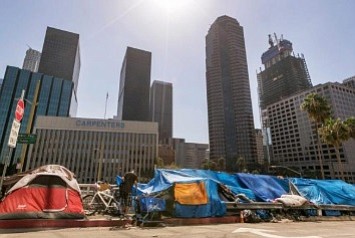 USC is launching a research institute devoted to policies to reduce homelessness in L.A. County, the university announced April 23.
The Homelessness Policy Research Institute started up last month at USC's Price Center for Social Innovation in partnership with United Way of Greater Los Angeles' Home for Good Initiative. The institute started with a $155,000 grant from the Agoura Hills-based Conrad N. Hilton Foundation and $55,000 in funding from other sources.
As it expands, the institute will pull together local and national experts in the issues surrounding homelessness and will seek to develop policy solutions to reduce homelessness in the county. As of last year, a count showed the county had a record 58,000 homeless individuals, the largest of any metropolitan area in the country. Results from this year's count are scheduled to be released in the next few weeks and are widely expected to show a significant increase from last year.
The institute opened at a time when reducing homelessness has risen to the top of the local public policy agenda, backed by recent local voter approval of two funding measures: L.A. city measure HHH in November 2016, a $1.2 billion bond initiative to fund the development of 10,000 units of permanent housing for the homeless over the next decade; and L.A. County measure H in March 2017, a quarter-cent hike in the sales tax intended to raise $3.5 billion over 10 years to fund supportive services for the homeless.
"The urgent need to reduce the number of individuals experiencing homelessness in Los Angeles County requires a new model of collaboration between researchers and policymakers," Gary Painter, director of both the new institute and the USC Price Center for Social Innovation. "The institute harnesses the collective talent of the region's top scholars from a range of disciplines, including housing and real estate, economics, behavioral and primary healthcare, social services and social network theory, to conduct timely, actionable research that directly informs policymaking at all levels of government."
Economy, education, energy and transportation reporter Howard Fine can be reached at hfine@labusinessjournal.com. Follow him on Twitter @howardafine.
For reprint and licensing requests for this article, CLICK HERE.