Report: Job Growth Slowed in Los Angeles Last Year
Friday, September 29, 2017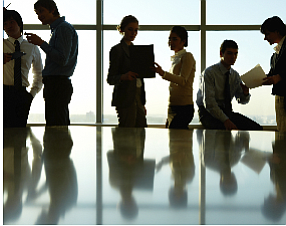 Job growth in Los Angeles slowed last year, according to a report from Beacon Economics.
The report, presented on Sept. 27 to the Los Angeles City Council as part of the Los Angeles Area Chamber of Commerce's annual City Hall advocacy day, showed Los Angeles with 1.39 million jobs during the third quarter of 2016, up 0.7 percent from the same period in 2015. That's a much smaller increase than the 2.3 percent jump in jobs between 2014 and 2015.
Beacon compiled figures for that single quarter in the city and by council district for a more detailed analysis than provided by state and federal jobs reports.
Chamber Chief Executive Gary Toebben said in a preface to the report that it is intended to "track progress, identify potential challenges and provide important context for economic and policy decisions that will shape the future of the city."
The report detailed economic data for each of the city's 15 council districts, starting with job growth. Not surprisingly, the 11th District on L.A.'s Westside, home to Silicon Beach, showed the fastest job growth between third quarter 2015 and third quarter 2016 of 4.6 percent to 162,000 jobs. Next was Council District 6 in the San Fernando Valley, which had a job growth rate of 2.1 percent.
Council district 8 in South Los Angeles posted the worst year-over-year job performance, with the job count falling 4.4 percent to 18,400 in the third quarter last year.
The unemployment rates for the council districts during third quarter 2016 ranged from a low of 5.4 percent for District 11 (L.A.'s Westside) to a high of 9.9 percent in both District 8 (South L.A.) and District 15 (from Watts to San Pedro).
Council District 11 also had the most building permit activity during the fiscal year ending in June, with that activity valued at $1.47 billion. Next was District 5 (Westwood and Century City) with $1.33 billion, followed by District 14 (downtown) at $1.11 billion.
The report also found that building permit valuations rose 18 percent to $7.7 billion for the fiscal year ending in June, up from $6.5 billion for the previous fiscal year, the report says. Sales tax receipts hit $520 million for the past fiscal year, up 2.8 percent from the previous fiscal year. The city collected $509 million in gross receipts taxes from businesses during calendar year 2016, up 1.4 percent from 2015, the report says.
Economy, education, energy and transportation reporter Howard Fine can be reached at hfine@labusinessjournal.com. Follow him on Twitter @howardafine.
For reprint and licensing requests for this article, CLICK HERE.