Deals & Dealmakers: Healthy Pharma Score
Kite boosts prognosis for L.A. action as Gilead puts $11.9 billion down for firm.
Friday, September 1, 2017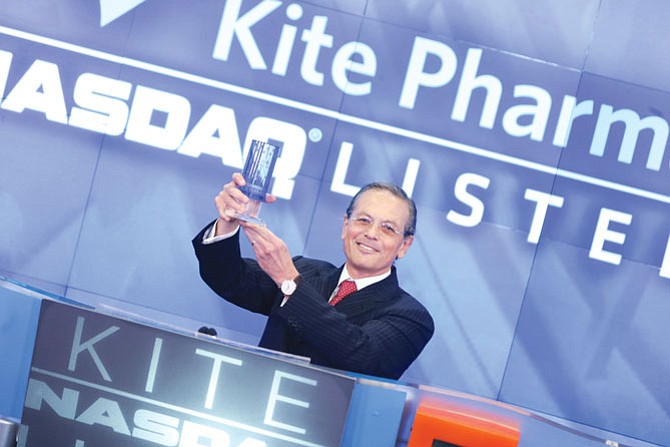 L.A.'s biotech industry has long occupied the No. 3 spot in the state rankings behind San Francisco and San Diego, but that doesn't mean there aren't deals to be had.
Big deals.
Santa Monica-based Kite Pharma Inc. sold last week to Gilead Sciences Inc. in Foster City for $11.9 billion, fetching one of the highest dollar values for an L.A. deal this year.
Gilead, best known for its treatments for HIV and hepatitis C, agreed to pay Kite $180 a share in an all-cash deal, representing a 29.4 percent premium over Kite's previous close.
The transaction is expected to close in the fourth quarter of this year, at which point several L.A. players are set for a huge payday.
At the head of the list is Kite Chief Executive and co-founder Arie Belldegrun, who was the largest individual shareholder in the company, with some 3.3 million shares, according to Securities and Exchange Commission filings from as recently as April. That stake is worth close to $600 million at the $180 stock price Gilead paid (see related column item, page 3).
Downtown's Capital Group Cos. is another winner in the transaction. The institutional investor holds the largest overall block of shares – 6.1 million – which is worth about $1.1 billion with the Gilead deal. Capital Group has been a longtime shareholder in Kite, according to SEC records, holding stock at least since the pharmaceutical company started reporting publicly after its 2014 IPO.
Other big shareholders include Texas billionaire and TPG Capital founder David Bonderman, who owned 2.4 million shares, the second-largest individual block, and institutional investors BlackRock Inc., Vanguard Group Inc. and JPMorgan Chase & Co., who all hold around 3 million shares.
Kite is still waiting on Food and Drug Administration approval of its cell therapy treatment designed to cure non-Hodgkin's lymphoma, which could come as soon as Nov. 29.
The firm said that research and development, as well as commercial operations for Kite, will remain in Santa Monica, with product manufacturing to stay in El Segundo.
Kite has been in a race with rivals Novartis AG, Juno Therapeutics Inc. and Bluebird Bio Inc. to get the first approved treatment therapy. The new immunotherapy drugs are expected to cost hundreds of thousands of dollars per patient, while generating billions in revenue.
Green Pastures
Kite wasn't the only L.A. outfit involved in a billionaire-dollar deal last week.
Brentwood private equity firm Leonard Green & Partners shelled out 2.4 billion pounds ($3.1 billion) to purchase U.K. data analytics company CPA Global from London private equity firm Cinven.
Leonard Green must love the company, because it's paying more than twice what Cinven paid for CPA five years ago and roughly 15 times CPA's earnings of $200 million, according to reports from the Financial Times.
The deal points to a larger issue in the buyout space: a money glut.
A report last week from research firm Preqin said private equity is sitting on a record $600 billion in cash after Apollo Global Management brought in $23.5 billion this summer for its latest fund, and the industry's largest of all time.
All that dry powder isn't inherently an issue, but figuring out what to do with it is. Company valuations are very high – just look at the 15 times earnings CPA received – with moneyed suitors driving up prices.
Market Concerns
MUFG Union Bank's L.A. outpost sat down with some of its high-net-worth clients recently and some interesting data emerged from a survey they took.
Seventy-seven clients responded to the survey, which was handed out at a July 25 Beverly Hills soiree. Questions were focused on the economic direction of the United States and local economies and what high-net-worth individuals were doing with their money.
Overall, the respondents weren't overly enthused about the country's economic direction. Only 19.5 percent felt very confident the U.S. economy would continue to improve over the next 12 months. That compared with 23.4 percent who were not very confident about the market's future prospects.
The top economic concern? Geopolitics (see related Commentary, page 68).
For reprint and licensing requests for this article, CLICK HERE.