Sun Worshippers
Edisun Microgrids hopes to change solar panel potential with tracking devices
Friday, October 27, 2017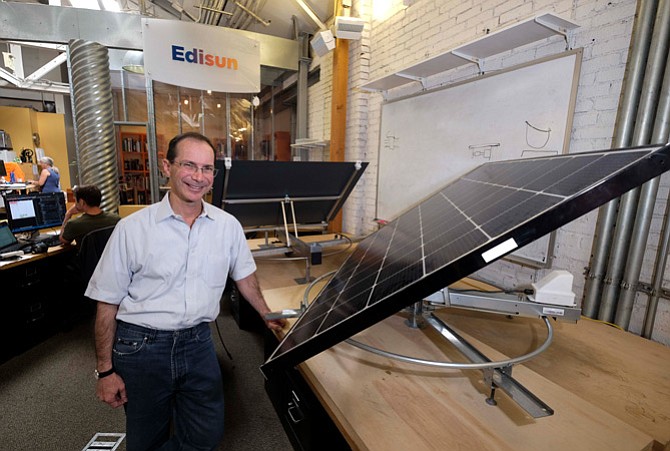 Bill Gross has been fascinated with solar power ever since his high school days in the San Fernando Valley during the oil supply crises of the 1970s.
Now Gross, the 59-year-old founder of the prolific Idealab technology incubator in Pasadena, has founded a startup, Edisun Microgrids, to capitalize on a solar power niche he hopes will transform large-scale solar rooftop projects.
The company, which is based at Idealab, has developed a dual-axis tracking device that attaches to the back of solar rooftop panels, allowing them to swivel in four directions to directly face the sun at all times. Panels that remain perpendicular to the sun can produce up to 30 percent more electricity in a given day than fixed-position panels, he said.
"Conventional solar panels generate almost no electricity in the early morning or late afternoon, even though the sun is in the sky for hours," said Gross, who is Edisun's chief executive. "Our dual axis trackers change that so now whenever the sun is in the sky, the panels produce electricity. That makes the panels much more efficient and able to produce the same amount of electricity at lower cost."
He said that in turn makes the economics of placing solar panels on large-scale flat rooftops more feasible. Solar rooftop panels have until now generally required some level of subsidy to pencil out, as the installation cost has generally been higher than credits from power sales back onto the grid.
"We think that this technology allows the panels to be cost-effective without subsidies," he said.
First installation
Edisun has raised $8.5 million over the past year from individual investors and venture capitalists, and now is testing the technology with its first major installation. The devices were mounted with 2,900 solar photovoltaic panels and installed this spring on the roof of a half-million-square-foot warehouse in Oxnard occupied by Chiquita Brands International Inc., the Switzerland-based banana producer.
The installation by Edisun's partner, West Hills Construction Inc. of Corona, was completed in June, although the two companies waited to announce their partnership until October.
Executives with the warehouse's owner, Harry Ross Industries of Santa Monica, eagerly sought out the solar technology when they first learned of it.
"We realized that even though the tracking devices added 10 percent to the cost of each panel, because the panels will be so much more efficient, we would actually need far fewer panels than we would with conventional solar technology," said Rob Ross, managing partner with Harry Ross Industries. "That saves us money overall."
Prev Next
For reprint and licensing requests for this article, CLICK HERE.