LA Weekly Sold; Buyer Under Wraps
Newly-formed entity takes over; deal throws uncertainty on newsroom operation.
Friday, October 20, 2017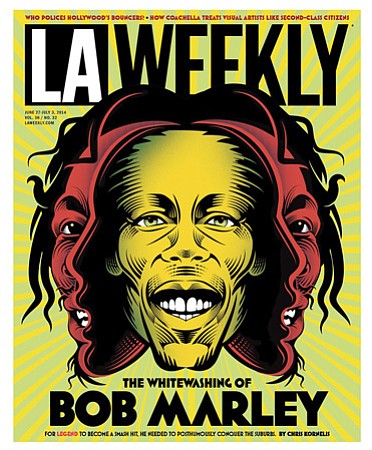 oice Media Group reached an agreement last week to sell its LA Weekly newspaper business to Semanal Media.
Terms of the sale were not disclosed.
Voice Media (VMG) informed members of the alternative weekly publication's local bargaining unit of the sale on Oct. 18. A statement from the Phoenix, Ariz.-based parent company included comments from Chief Executive Scott Tobias, who said he expected the deal to close within two weeks.
Local media watchers have been calling Semanal a mystery company. Andy Van De Voorde, executive associate editor for Voice Media, confirmed that Semanal is a new entity, established for the purpose of the transaction.
Semanal is based in downtown Los Angeles, with offices at 500 S. Grand Avenue. "Semanal" means "weekly" in Spanish.
Van De Voorde said VMG is terminating employment of editorial staff effective Nov. 1, and will pay severance according to its agreement with the union. He said it will be up to the new owner to decide whether to rehire the editorial employees, who are represented by the International Association of Machinists and Aerospace Workers.
"We will pay severance because we will be selling and they will no longer be our employees," Van De Voorde said. "It doesn't matter if the buyers are hiring them or not, we are paying it."
The deal for LA Weekly caps months of speculation about future ownership of the alternative weekly paper, founded in 1978 by an investor group that included actor Michael Douglas. Voice Media Group revealed its intention to sell the publication in January.
VMG still owns several publications across the country, including Phoenix New Times, Houston Press, and Miami New Times, among others.
It sold the SF Weekly to the San Francisco Newspaper Company and the Seattle Weekly to Sound Publishing in 2013, and more recently sold its OC Weekly to Duncan McIntosh Co. in Newport Beach.
The sale of the LA Weekly is another step in the VMG's ongoing transformation from a traditional print newspaper company to a web forward enterprise specializing in digital advertising services.
VMG's digital advertising arm, V Digital Services, now operates in the 13 major cities and serves business clients in search engine optimization, paid media, social media management, web development, and both programmatic and pay-per-click advertising.
– Diane Haithman
For reprint and licensing requests for this article, CLICK HERE.