Fastest Growing Private Companies: Greenspire Shines Light on Solar Market
Friday, November 10, 2017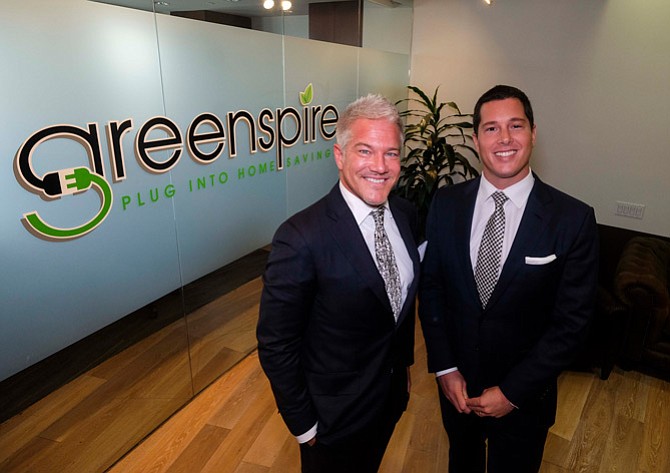 Andy Baker and David Murray took an unorthodox route when they first teamed up to enter the residential rooftop solar business five years ago.
They hung out their shingle as something more than yet another rooftop solar panel installer. Their business, called Greenspire, focused solely on generating sales leads for other rooftop solar installers, relying on the co-founders' experience in the sales business.
Baker and Murray used some revenue from Baker's long-established and profitable windshield repair business as seed money for Greenspire, while sharing overhead costs with their existing enterprise.
"What all this meant is that from day one, Greenspire brought in revenue," said Murray, Greenspire's chief executive. "No debts, no cost overhead, just revenue."
That was the start of Greenspire's quick rise as a revenue-generating machine.
Greenspire placed No. 3 on the Business Journal's list of fastest-growing companies this year, with a 3,363 percent change in revenue between 2014 and 2016. That's nine spots above its ranking last year, and its employee count also jumped to 150 from 100 in 2016.
Greenspire's other secret? It changed the business model over time, diversifying to bring in ever-greater chunks of revenue.
Generating sales leads was a good way to land sales right off the bat, but, the company only got a small slice of revenue from each resulting rooftop solar panel installation, Murray said. So Greenspire started keeping the sales leads for itself instead of passing on sales leads to other installers.
That laid the groundwork for its entry into the installation business in California and Arizona.
"To get a bigger slice of revenue, we found that we needed to start doing the installations ourselves, so we became general contractors," Murray said.
That change two years ago resulted in a huge revenue takeoff for Greenspire, jumping from $7 million to nearly $42 million in just one year.
The solar panel installation business has become more competitive in recent years, and that has led Greenspire to once again change its business model, adding energy audits and home automation technologies to its lineup of offerings. The idea: to become a one-stop shop for single-family homeowners seeking to save energy and lower their energy bills.
Sometimes, Murray said, installing solar panels is not the best solution. Wiring the home with smart technology to better manage energy usage or even just switching billing programs at the customer's utility might do the trick.
The timing for this diversification couldn't be better. After several years of rapid growth spurred by state and federal incentives, cheaper solar panels and the spread of leasing programs, California's residential rooftop solar market has slowed dramatically this year and may even shrink, according to Dexter Gauntlett, principal energy research analyst in the Vancouver, Wash. office of Chicago-based Navigant Research.
"This is a transition year," Gauntlett said. "It's a transition away from leases in favor of solar loans and direct purchases. It's also a transition to new service offerings, such as energy storage and bundled services."
Gauntlett added there's an even greater threat on the horizon: the possibility that President Donald Trump's administration might impose tariffs on cheap solar panels from China.
Baker and Murray aren't through diversifying. Next year, they said, they plan to launch a separate roofing division that could take on non-solar customers.
"We have gathered expertise as general contractors installing solar panels on roofs, so that's a logical next step," Murray said. "It's all about our focus to make homes more comfortable and safe."
For reprint and licensing requests for this article, CLICK HERE.