Making Spaces
Deborah English I DL English Design
Friday, November 3, 2017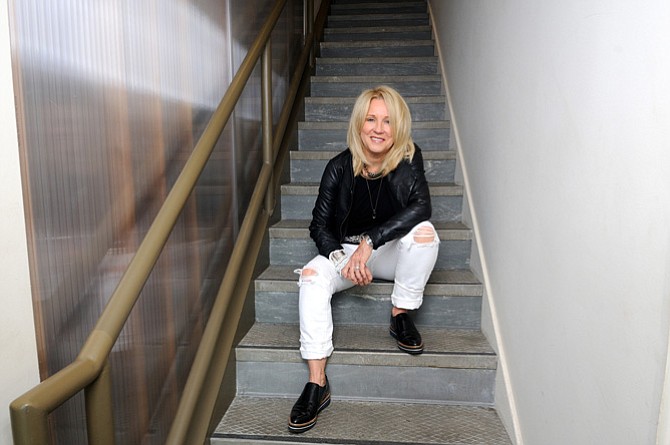 Deborah English, founder and president of DL English Design in Pasadena, creates interior spaces, not clothes.
Recent notable projects include Whole Foods and Mendocino Farms markets. The design firm's work is also on display in the form of murals, custom wall coverings and finishes at the new InterContinental Los Angeles Downtown hotel.
Still, English said clients expect a designer to look like a designer.
"I do feel that my personal style is really important, and I pay attention to it," she said. "I work with a lot of C-level people, and they want their architects and designers to kind of look the part."
That's just fine with English, who has as much fun developing her personal style as she does her designs.
"I'm not real girly, I'm kind of tomboy chic," she said during a conversation at the company's two-story Pasadena offices, which occupy a former live-work space.
DL English also has a fabrication space in Pacoima and satellite offices in San Francisco.
Tomboy chic means no frills and lace. Otherwise, her style might be described as eclectic.
"I do lots of layering of jewelry over jewelry. I mix silver and gold together," she said. "I like what feels good and what aesthetically looks a little dynamic, and not predictable."
That's also the plan when it comes to design. English, formerly vice president of development for Bristol Farms Inc., said her company brings a unique look to each Whole Foods store it designs.
"That's really our niche," English said. "What we are known for is creating distinctly different stores for every community."
That means, for example, a Park City, Utah, Whole Foods with ski lift chairs. Downtown L.A. is a hip neighborhood that called for a hip Whole Foods.
"We do really quirky things in there, like instead of having signs saying fish or seafood, we'll say 'Hello, beautiful.' Or, 'It's always a good day to have a good day.'"
English called food retail spaces the wave of the future. In order to combat online delivery orders, grocery stores must become entertainment.
"You have to provide them with things that will entice them to come in," English said. "It's more like a food hall or food court with a grocery store in it. Beer, wine and cocktails have become a big part of that culture."
English added, "A highly socialized space is something that the Internet will never be able to provide."
– Diane Haithman
For reprint and licensing requests for this article, CLICK HERE.
Stories You May Also Be Interested In