Firms Look to Connect With Augmented Reality
TECHNOLOGY: Supporters cite Pokémon Go craze as strength in face of VR buzz.
Friday, May 26, 2017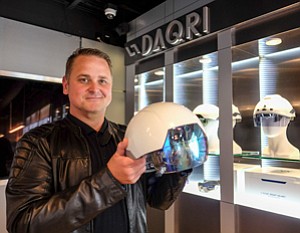 L.A.'s virtual reality startups snag most of the headlines, but many in the local tech industry have turned their attention toward augmented reality, reflecting a national trend of increased investment and interest in the technology.
While high-grade VR headsets and accessories have made wondrous advances in the past five years, steep prices have kept consumers from embracing the medium, opening the door for augmented reality products that can often be used in mobile apps.
Virtual reality, which renders a computer-generated simulation of three-dimensional images that can represent actual places or imagined worlds the user can interact with, differs from augmented reality, which overlays computer-generated images and information on real environments.
"The applications of AR are endless," said Adam Lilling, managing director of Culver City's Plus Capital, which partners with celebrities to invest in startups. "It gives you superpowers in this reality, versus taking you out of reality and putting you in an immersive headset."
Lilling said he's noticed an uptick in augmented reality investment among his firm's clients over the last year or so, adding that he's a bigger fan of AR versus VR technology.
Kevin Winston, chief executive of tech networking group Digital LA, cited a similar increased interest in augmented reality after last summer's global mobile game phenomenon Pokémon Go, which took players to real-life locations in search of Pokémon characters.
"I've talked to people who have AR startups who say that ever since Pokémon Go, it's easier to get an investor meeting. People know what AR is," Winston said.
Some local firms have already cashed in. For example, Culver City's 8i Studios announced in February that it had raised a $27 million Series B round of funding led by Time Warner Inc. An AR app by 8i allows users to overlay holograms of celebrities into videos recorded on mobile phones. Nationally, venture capital firms and corporate investors poured $2.3 billion into virtual and augmented reality startups last year compared with the roughly $700 million invested in 2015, according to Menlo Park digital media consultancy Digi Capital, a nearly 230 percent spike.
Corporate tech giants are also trying to get some skin in the augmented reality game. Apple Inc. has reportedly been aggressive in its efforts, which include the development of digital spectacles that can connect wirelessly to an iPhone and beam content to the wearer. Apple also acquired New York augmented reality startup Flyby Media Inc. last year.
Prev Next
For reprint and licensing requests for this article, CLICK HERE.