City of L.A.'s Rental Unit Law Proves Tough Sell
DEVELOPMENTT: New rules draw fire from businesses, which may relocate projects.
Monday, May 15, 2017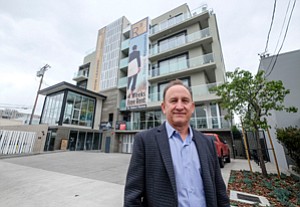 Hundreds of apartment developments in Los Angeles could be at risk after the City Council last month passed a law requiring replacement rental projects to provide more low-income or rent-controlled housing.
Developers and their representatives said that as a result of this new ordinance, they might have to pull out of apartment building projects in the pipeline for city approval and pass on future investment opportunities, choosing instead to develop more commercial properties or convert older apartments into condominiums.
"This is going to make it much harder – almost impossible – to do projects in L.A.," said Ken Kahan, chief executive of West L.A.-based developer California Landmark. "This is the most ill-conceived policy that has been passed in this city, ostensibly to improve housing."
The new law, which will take effect June 4, is designed to prevent property owners and developers from trying to get around the state Ellis Act's restrictions on replacing rent-controlled units with market-rate units.
Under the L.A. law, if rent-controlled units are demolished or completely made over, the property owner must either set aside 20 percent of new units for long-term low-income housing or make all of the new units rent controlled. The law previously allowed developers to choose whether to set aside 20 percent of new units for long-term low-income housing or provide the same number of rent-controlled units as the previous building had.
Mayor Eric Garcetti and ordinance co-author Councilman Gil Cedillo cite a city report that says 2,251 rent-controlled units were removed from the rental housing market from 2010 through 2014. While 4,634 rental housing units were built to replace those units, only about one-third of the new units were rent controlled, resulting in a net loss of 766 rent-controlled units.
"This ordinance will help us ensure that property owners use the Ellis Act in good faith and not as a way to replace (rent stabilization ordinance) units with luxury housing," Alex Comisar, Garcetti's press secretary, said in an email.
Developers and land-use attorneys said the ordinance will have the opposite effect on L.A.'s affordable housing stock.
"If I have to set aside 20 percent of units as deed-restricted affordable (for low-income tenants), given the price of land, there's no way that the revenue from the remaining 80 percent market-rate units can make up for that," Kahan said. "And as for making all units rent controlled, no lender is going to go for that. So that means there won't be any additional units – market-rate, rent-stabilized, or deed-restricted affordable – because the projects simply won't get built at all in the city."
Kahan said he was reconsidering plans to acquire two sites with older rent-controlled units on them and replace them with 75- and 150-unit projects.
Two local attorneys said they had clients in the same boat.
"I have three clients with projects potentially dying on the vine right now," said Dave Rand, partner in the land-use law firm of Armbruster Goldsmith & Delvac in West Los Angeles.
Jerold Neuman, partner at downtown law firm Liner, said two of his clients were likely dropping residential components from their project plans, while other clients are looking elsewhere, either in the city's commercial zones or at neighboring cities.
Cedillo said concerns about developers abandoning projects are overblown.
"We do not anticipate significant numbers of developers pulling their projects," he said.
Land-use attorneys said the ordinance changes the rules midstream for projects currently going through the entitlement process – projects with financing already lined up but that have no hope of getting final approval before the law's June 4 implementation.
Neuman said he has talked with some council members who did not realize this when they voted on the ordinance last month and that there are discussions taking place at City Hall to see if more projects in the pipeline can be grandfathered in under existing rules. An official at City Hall who didn't want to be identified confirmed that such discussions were indeed taking place.
Otherwise, the ordinance will prove costly, Neuman said.
"This will have devastating impacts on projects where developers have spent millions of dollars submitting plans and going through the entitlement process, only to see the entire financial underpinnings thrown out the window," he said.
For reprint and licensing requests for this article, CLICK HERE.