Investor At Home in Medical Buildings, Senior Housing
Friday, May 5, 2017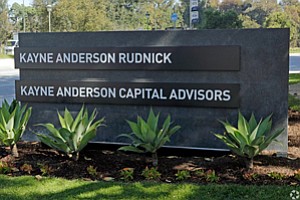 Kayne Anderson Capital Advisors bolstered its medical building and senior housing holdings last week, acquiring real estate investment trust Sentio Healthcare Properties of Orlando, Fla., for $825 million.
The deal is being run through Kayne Anderson Real Estate Advisors, the Century City firm's real estate subsidiary, which has invested heavily in the medical office and senior living space since 2013. The firm is paying between $14.37 and $15.21 a share for Sentio's outstanding shares depending on final pricing.
David Selznick, Kayne Anderson Real Estate Advisors' chief investment officer, said in a statement that the acquisition comes with opportunities to add value to Sentio's properties.
"The addition of the high-quality Sentio assets further solidifies (Kayne Anderson's) position as one of the largest owners of health care real estate with a strong composition of premier assets," he said.
Sentio's holdings are concentrated on the senior living market, more than doubling Kayne Anderson's facility portfolio to 52 housing complexes from 24. The deal also boosts the firm's total number of units, bringing the tally to 7,492 from 4,800. Kayne Anderson also adds three medical office buildings to its portfolio through the deal. It now holds 197 properties totaling 9.6 million square feet.
The transaction comes as a flood of private equity money is pouring into medical office space and senior housing, according to Mark Myers, an executive vice president of Calabasas-based real estate brokerage Marcus & Millichap. Sentio was backed by a $150 million equity investment from New York's KKR & Co. in 2013. The investment has helped the company triple in size, according to KKR.
"Private equity funds are jumping in in a big way because they can get long-term amortized loans right now for very cheap," Myers said. "The internal rate of return is just so big on these properties when you're borrowing at such low rates."
Myers said the deal for Sentio was a good pickup for Kayne Anderson because the REIT's portfolio isn't a patchwork of properties, making it more efficient to manage.
"It makes a ton of sense to buy a portfolio like Sentio's, which is somewhat homogenous from a quality and geographic perspective," Myers said.
Citigroup Global Markets Inc. and Holliday Fenoglio Fowler acted as financial advisers to Kayne Anderson with Hogan Lovells and Greenberg Traurig providing corporate and real estate legal guidance, respectively. Robert A. Stanger & Co. Inc. and UBS Investment Bank served as Sentio's financial advisers, while Latham & Watkins, Foley & Lardner, and DLA Piper acted as legal counsel. Simpson Thacher & Bartlett served as legal adviser to KKR.
For reprint and licensing requests for this article, CLICK HERE.