LGBT Paper Sees Unfolding Opportunity in L.A.
MEDIA: Blade believes niche focus, Trump's presidency will help it step into market.
Friday, March 24, 2017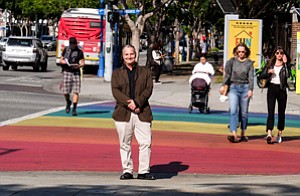 The Los Angeles Blade, a West Coast offshoot of the nation's oldest LGBT newspaper, The Washington Blade, was to distribute its debut run of 20,000 copies in Los Angeles and Palm Springs on March 24.
The paper's staff said they worked frantically last week to get its first edition to print in the second quarter, well in advance of major pride events in Los Angeles and Washington, D.C., on June 11 – a period that can bring in a good deal of advertising revenue.
The free biweekly newspaper is based in Mid-Wilshire and will cover news and entertainment coming out of Los Angeles and California, with some national and international reportage from the 50-year-old Blade included, plus opinion columns. The publication, which will also be available online, will be distributed in lesbian-, gay-, bisexual-, and transgender-friendly bars, clubs, gyms, and other locations. Distribution in Los Angeles will include West Hollywood as well as the Silver Lake and Los Feliz neighborhoods, among others.

Kevin Naff, co-owner of Blade parent company Brown Naff Pitts Omnimedia Inc., said production was also hastened due to the election of President Donald Trump. Naff also serves as national editor of the L.A. publication.
Brown Naff co-owner Troy Masters, a veteran LGBT media executive who founded local newspaper The Pride L.A., serves as editor and publisher of the new venture. Karen Ocamb, former news editor of L.A.'s Frontiers magazine, a gay publication that folded last year, has been hired as a senior contributing writer. The L.A. office has five employees.
Before the Blade's arrival, there were only a few LGBT publications left in Los Angeles, including The Pride and Fight Magazine.
"L.A. is a huge city that is underserved by gay media," said Todd Evans, chief executive of Rivendell Media Inc. of Mountainside, N.J., which serves as the Blade's national sales representative.
Market calculus
According to research from Gallup Inc., a little more than 4.5 percent of the population in the greater L.A. area identified as gay in 2015, the eighth-highest percentage in the country. That's one reason the Blade's leadership team considers Los Angeles a strong market for a print publication. While the launch of a print product might seem suspect in an era of declining print ad revenue, Naff said publications such as the Blade are governed by a different set of economics.
"Niche media is so different from mainstream metro dailies, which are under so much pressure," he said. "Print advertising is actually up in the LGBT niche."
Rivendell, which says it represents 95 percent of LGBT media in the United States and Canada, also contends that LGBT print is expanding in spite of the digital pressure affecting mainstream newspapers. According to its annual market survey, circulation of LGBT print publications was up 15 percent in 2015. While figures are still being tallied for last year, Evans said he expects circulation to be flat thanks to the closing of Frontiers with an expected increase on the horizon this year.
Even with the increase in print circulation, digital offerings remain important. New York-based LGBT magazine Metrosource was acquired by Davler Media Group, also of New York, earlier this month with the intention of expanding its online presence. Metrosource is also distributed in Los Angeles.
Tackling Trump
Brown Naff has no plans to expand the Blade into other cities, though executives would like to turn the L.A. paper into a weekly at some point. Its coverage will focus heavily on politics and the local LGBT community's political activism.
"There is a lot of talk about changing the focus of Pride," Naff said, referring to numerous celebrations and parades that take place annually near the June 28 anniversary of the Stonewall Riots. "A lot of cities, including L.A., are changing the tones of their parades, from a celebration to more of a protest. We wanted to be part of that, a kind of voice in that process."
Naff also noted that while the "Trump phenomenon" has driven up media engagement in the nation as a whole, it has increased even more in the LGBT community due to its members' fears regarding the administration's policies.
Brown Naff's Masters said a need for community drives a niche publication more strongly than a topical subject such as food or fashion.
"An editorial investment and commitment to mission is key. … One-hundred percent ownership by the community it serves is profoundly important," he said.
Rob Eshman, publisher and editor-in-chief of L.A.'s Jewish Journal, which offers paid delivery subscriptions but also distributes 50,000 free copies to various locations in the area, agrees that community ties and goals can serve as an anchor.
"I think it is challenge for other niche papers that don't have a cultural connection," Eshman said.
For reprint and licensing requests for this article, CLICK HERE.