Subway Might Deliver Beverly Hills 9021 Uh-Oh!
TRANSIT: Station work slated for Golden Triangle
Friday, June 16, 2017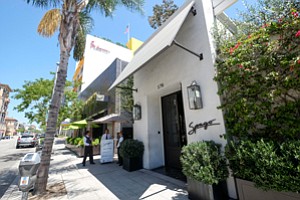 Subway construction is about to begin in the heart of Beverly Hills, where resistance that lasted for decades has been supplanted by mounting concerns from the swanky shops, restaurants and hotels that make up the city's famed Golden Triangle.
The Los Angeles County Metropolitan Transportation Authority and Southern California Edison plan to start digging up Wilshire Boulevard, Canon Drive and other nearby streets as early as next month – the beginning of utility relocation work with a time line of up to 18 months. Work on the station itself is slated to begin in late 2019 and last until mid-2024.
"Any business located near where Rodeo, Beverly and Canon drives meet Wilshire Boulevard should be very concerned about the impact this project is going to have," said Beverly Hills Chamber of Commerce Chief Executive Todd Johnson. "And if there are any businesses that aren't concerned, that in and of itself should be cause for alarm."
Station disruption
The main focus of the next seven years of construction will be the preparation for and excavation of the Metro Purple Line Wilshire-Rodeo subway station. It is a key component of the second phase – from the eastern edge of Beverly hills to Century City – of the 9.5-mile Wilshire subway extension.
A joint venture led by Sylmar-based Tutor Perini Corp. earlier this year won the prime contractor bid on the $1.4 billion second phase, which includes the Wilshire-Rodeo station and another station on Constellation Boulevard in Century City.
Actually, the Wilshire-Rodeo station name itself is now a misnomer. When originally planned a decade ago, the station was to be at that famed intersection; but three or four years ago, after input from Rodeo businesses and Beverly Hills officials, Metro planners moved the station location two blocks to the east. It is now planned to stretch under Wilshire from Beverly to just east of Canon. The station entrance will be at the southwest corner of Wilshire and Reeves Drive, on the site of the former Ace Gallery building – the gallery relocated to the Miracle Mile last fall – that is set for demolition in coming months.
The shift east means businesses and tourist attractions on Rodeo will be spared the main thrust of the disruption wrought by the construction. The brunt will now fall on famed Spago Restaurant, adjacent Citizen Restaurant, the nearby Montage Hotel and other businesses near where Canon meets Wilshire.
High-rise office towers at the intersection of Wilshire and Beverly will also be significantly affected.
The chamber's Johnson and other business leaders also are concerned that the extended construction will have an even broader impact across much of Beverly Hills. They fear that once construction begins and the inevitable traffic tie-ups increase, tour group operators, local shoppers and dining patrons will stay away from the city in droves and instead flock to other nearby hot spots such as the Grove shopping center in the Fairfax District and Santa Monica's Third Street Promenade.
Construction vise
Johnson said he is especially concerned about the near-term impact because Beverly Hills is already in the midst of another major street construction project: the reconstruction of North Santa Monica Boulevard, an effort that began in January and will continue into next year. The utility relocation along Wilshire that's set to begin this summer means that both of the two main east-west thoroughfares bordering the city's Golden Triangle shopping district will be seriously restricted for an overlapping period that could last 10 months.
Beverly Hills city and tourism officials – with some funds from Metro – will try to give merchants a boost with a bid to offset traffic woes with a marketing campaign that will include a "shop local" advertising component.
"We will be going to the City Council in the next few months with a business mitigation package," city spokeswoman Therese Kosterman said in an email. "Among the programs we are looking at are adding valet parking, better signage, help with marketing programs, street art and finding ways to make the construction site look less like a construction site."
Local business executives are cautiously optimistic that this marketing campaign will help stave off any exodus of customers.

"We certainly hope the marketing efforts will be enough to offset people deciding to stay away from the area once construction begins," said Bill Wiley, director of the Two Rodeo Drive collection of 30 shops and two restaurants at the northeast corner of Wilshire and Rodeo.
Spago impact
But it probably won't be enough for businesses squarely in the construction zone, particularly Spago and Citizen restaurants. Their main concern is the shutting off of access to their entrances, both in the near term with utility relocation and longer term once the street decking and station excavation begins.
The city recently brought to these restaurants' attention a plan to close the left-turn lane from eastbound Wilshire to northbound Canon for up to three weeks during the relocation of Southern California Edison utility lines. The lane closure would be necessary, the city said, because the work would require taking a lane away from each side of Wilshire; to keep the left-turn lane for the eastbound side would mean reducing Wilshire to one lane of through traffic.
The lane closure plan prompted a furious reaction at an April City Council meeting from representatives of both restaurants who said it would cut off a vital access route for patrons and prompt many customers to eat lunch elsewhere.
"To take eight to 21 days to take our left turn and close it (during) our lunch business – Spago lunch is the power lunch of Beverly Hills," Spago General Manager Steve Scott Springer testified. "You have agents and lots of other important people with a very limited time frame and they are not going to tolerate that kind of inconvenience."
The city, Metro, Southern California Edison and representatives from the restaurants subsequently did hammer out a compromise proposal to shift some of the work hours to minimize the business impact of the lane closure. The plan will go before the council later this month, Kosterman said.
Spago was more optimistic in its tone last week.
"Our team at Spago, as well as our neighbors, are working closely with the city of Beverly Hills and Metro to mitigate the impacts of this upcoming expansion project," Tracey Spillane, regional operations director for Wolfgang Puck Fine Dining Group, said in an emailed statement. "We are happy with the progress thus far and look forward to further developments."
But the intensity of the back and forth on the lane closure likely foreshadows an era of contention among city officials, Metro and merchants in the area as the seven-year project kicks off.
"We need proper access throughout this project," Spago General Counsel Steven Wolff said at the council meeting. "What that proper access is will be different depending on what the problem is and what needs to be scheduled around it."
For reprint and licensing requests for this article, CLICK HERE.