Entertainment Takes Lead Role in CEO Pay
COMPENSATION: Disney's Robert Iger at top despite dip.
Friday, June 9, 2017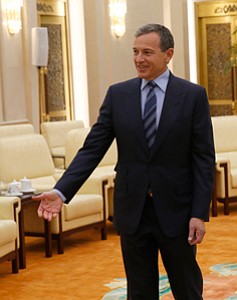 "These stock awards are only an estimate of value," said Steven Bank, the Paul Hastings professor of business law at UCLA's School of Law. "If you do well, you get that money; if you don't do well, you may not get nearly as much; and if you don't meet the minimum threshold, you get nothing."
Some local companies, such as apparel brand Guess Inc., have also reported voluntarily in their proxy statements "realizable compensation amounts" for executive pay, which subtract out portions of stock awards that will vest in future years. These compensation totals are usually substantially lower than the totals required by the SEC.
Kotick is not likely to see a similar increase in compensation next year, and not just because the stock award was booked entirely in 2016. Activision's board drew up a new employment agreement with him that took effect Jan. 1. The company's proxy statement said his base salary will drop 26 percent from last year's $2.4 million, and the compensation package will "move away from upfront equity awards to an annual grant cadence."
The proxy said these changes were made in part to "reflect feedback from our stockholders with respect to our compensation packages."
Compensation vs. returns
The average growth in pay packages – including salary, stock awards, bonuses, and other factors – outstripped the average shareholder returns of their respective companies.
Total shareholder returns for the 50 companies on the chief executive compensation list grew by 7.3 percent in 2016.
Several of the highest-paid chief executives saw their compensation packages more than double last year compared with 2015.
"Pay for chief executives continues to outpace everything – market returns, administrative staff pay levels, and typical employee pay," said Rosanna Landis Weaver, an analyst and researcher at the Oakland nonprofit As You Sow, which looks at corporate accountability from a shareholder perspective.
The average compensation on the list of the 50 highest-paid chief executives was $10.1 million, roughly 46 times the average wage for all chief executive positions in the county and 80 times the average wage for all managerial positions in the first quarter of 2016, the most recent wage data set available from the state Employment Development Department.
The median pay on the chief executive list was $8.8 million, 155 times the countywide median household income of $57,000 last year, according to data from the U.S. Census Bureau.
The Business Journal focused on comparing the growth in chief executive compensation in 2016 to total shareholder returns for that same year. While there are other measures of corporate performance – including revenue growth, profitability, and return on capital investment – total shareholder return is a widely used method for determining whether shareholder investors are getting their money's worth. Shareholders are also the most interested in seeing whether the chief executive of the company they have invested in merits the pay he or she is receiving.
For reprint and licensing requests for this article, CLICK HERE.