Entertainment Takes Lead Role in CEO Pay
COMPENSATION: Disney's Robert Iger at top despite dip.
Friday, June 9, 2017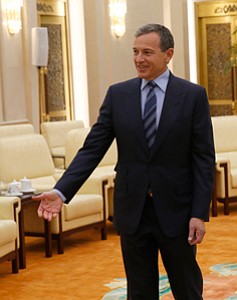 The 50 top-paid chief executives at L.A. County public companies saw a cumulative 18 percent rise in pay last year amid broad economic growth and stock market gains of 10 percent to 15 percent, according to the Business Journal's annual list of executive compensation.
Robert Iger of Burbank-based Walt Disney Co. pulled in $43.9 million in 2016, down 2 percent from the previous year, roughly in line with a 1 percent drop in total return for company shareholders. Iger was a distant No. 2 on last year's list behind the county's wealthiest billionaire, Patrick Soon-Shiong, who reeled in $147 million in stock and option awards in 2015 tied to the initial public offering of his Culver City biotech company NantKwest Inc. Soon-Shiong fell completely off this year's list as he received little in additional stock awards and options last year.
The No. 2 executive on the list, Robert Kotick, chief executive of Santa Monica-based Activision Blizzard Inc., got a 358 percent boost in compensation to $33.1 million, rising 30 spots on the list from last year.
His increase in compensation came despite a shareholder return for the company of -6.7 percent last year. Activision's performance on other measures of corporate performance was better: a 41 percent jump in revenue thanks to its major acquisition of King Digital and an 8 percent rise in net income.
Kotick's rise illustrates the increasing reliance of corporate compensation committees on stock awards to incentivize chief executives, but also reflects a quirk in government reporting rules. The goal of such stock awards is to tie chief executive compensation to the future earnings-per-share performance of their companies.
Seven of the 10 highest-paid chief executives on the Business Journal list have the greatest share of their compensation coming from these stock awards, including Robert Bradway of Thousand Oaks-based Amgen Inc., Michael Burke of Century City's Aecom, and Arthur Coppola of Macerich Co. in Santa Monica.
"The aim is to tie executive pay to performance over a longer time frame than the next quarter or two," said Kevin Murphy, professor of finance at USC's Marshall School of Business. "It's why stock awards are made today, but don't vest for four or five years out."
Securities and Exchange Commission reporting rules call for all of the stock grants to be recorded in the year they are awarded, even though they might not vest until future years. In Kotick's case, nearly $25 million of his $33.1 million total company compensation is from this "booking" of stock awards in the 2016 calendar year; how much of these awards vest in future years depends on the company meeting certain earnings-per-share and operating income targets, among other criteria.
Prev Next
For reprint and licensing requests for this article, CLICK HERE.