Olympics-Sized Transit Effort
TRANSPORTATION: Bid for games may speed projects.
Friday, July 7, 2017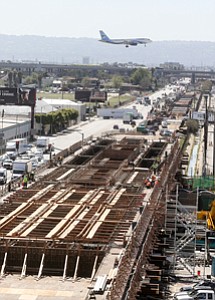 The likely prospect of Los Angeles being awarded the Summer Olympic Games next decade has helped spur local infrastructure projects onto the fast track, with new targeted completion dates years ahead of original plans.
Dozens of others could get a boost as well, and local construction, engineering and design companies are lining up in hopes of scoring lucrative contracts.
Among the projects already in progress are the Purple Line subway through Westwood, which would host the Olympic village at UCLA, and a multibillion-dollar modernization of Los Angeles International Airport, the gateway for international delegations of athletes and officials. Other projects that were once on the drawing board for the distant future, such as light-rail lines through the Sepulveda Pass and southeastern Los Angeles County, are now moving front and center.
Millions of people, both locals and visitors, are expected to attend Olympic events if Los Angeles wins its bid. With venues as far afield as downtown, Long Beach and Lake Perris in Riverside County, government officials in the already gridlock-ridden urban area are expecting public transportation to be key.
"Many of these projects were already in the hopper, and a few might have been fast-tracked," said Kelli Bernard, chief executive of the L.A. metro/design and consulting services group for Aecom, a Century City engineering and design giant that has submitted several proposals. "But it's the Olympic bid that has added another sense of urgency, to focus on completing many of these projects ahead of schedule."
Voter approval in the fall of a half-cent sales tax increase known as Measure M would help foot the bill for many of the fast-tracked projects. The increase is expected to raise about $3 billion a year, providing the financial ability for transportation officials to fast-track many projects by allowing more financing upfront, to be repaid over time with sales tax dollars.
Olympic push
The pressure to fast-track transportation projects picked up a notch in February when Los Angeles and Paris emerged as the only two cities still in the bidding to host the 2024 Summer Games. That's when plans gelled to fast-track the Purple Line extension through Westwood and an expansive rail station to connect the Crenshaw-LAX light-rail line to a people-mover system at LAX.
After a call from Los Angeles County Metropolitan Transportation Authority Chief Executive Phillip Washington for accelerating projects through public-private partnerships, dozens of proposals came in, including five from Aecom.
Prev Next
For reprint and licensing requests for this article, CLICK HERE.