Residential Developer Tips Cap to City's Assist
GOVERNMENT: Financial support eased creation of affordable housing units.
Friday, January 20, 2017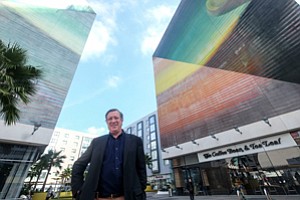 In Dan Rosenfeld's decades of fostering mixed-income housing projects, he has seen the benefits reaped by both builders and renters through publicly financed developments and the challenges of creating affordable housing without such support.
City leaders and housing advocates espouse mixed-income developments as a way for the region to fill some of the dire need for affordable housing, but Rosenfeld said that to make the projects financially viable, cities need to provide the right incentives.
"The industry needs to find a way to produce a larger amount of affordable housing in projects, and public subsidies are a key tool to achieving this," said Rosenfeld, 64, who has worked as a developer, real estate director for California and the city of Los Angeles, and as a planning deputy for Los Angeles County Supervisor Mark Ridley-Thomas. "There's only so many things you can fiddle with to make the financing work for affordable housing – land price or the cost of financing."
Such public support combined with a city mandate led to Rosenfeld and his former employer, Urban Partners, which has become part of Mack Urban, completing the 449-unit mixed-income Wilshire/Vermont Station Apartments in Koreatown in 2007.
In exchange for providing 20 percent affordable units with a 55-year covenant guaranteeing they will remain so, the city offered access to financing with an interest rate of just 3 percent, less than half the going rate at the time as well as tax credits.
The low interest rate allowed Rosenfeld to stretch the financing further to cover about 90 percent of the roughly $100 million construction cost, he said, which in turn allowed Urban Partners to charge lower market-rate rents.
The market-rate rents ranged between $1,500 a month and $2,500 a month, and both the affordable and market-rate units filled up quickly at the time, he said. Today, rental prices at the apartments, which the California Public Employees Retirement System purchased a majority stake in 2007, range from $1,800 a month for a studio to $2,847 for a two-bedroom, two-bath unit, according to the Wilshire/Vermont Station website.
Rosenfeld said his development shows an incentivized approach can work both for the city and developers.
Other types of mixed-income housing aren't always so successful.
Rosenfeld finished the Del Mar Station Apartments – now known as the Avalon Del Mar Station – in Pasadena in 2007 with a much smaller affordable housing component funded purely through private financing.
Urban agreed to set aside 6 percent, or 21 units, of the 347 units as affordable, mainly to smooth approval of the project by Pasadena officials. But unlike the Wilshire/Vermont project, Urban received no public financing assistance, so the operating loss of those 21 units has had to be offset completely by revenue from the market-rate units.
Rosenfeld said the 6 percent set-aside was as high as Urban could go and still be able to secure financing for the project. That still required the company to contribute one-third of the project's $150 million cost, which is the more typical amount developers put forward to receive financing.
As a result, Rosenfeld said, the pricing of the market-rate units was necessarily higher than for Wilshire/Vermont, at least initially.
The project was sold in 2008 to Archstone Apartments of Castlewood, Colo.; that company was bought in 2013 by AvalonBay Communities of Arlington, Va., which now owns the Del Mar Station apartment complex.
Del Mar Station units start at $1,877 a month for a studio and go up to $2,760 for a two-bedroom, roughly equivalent to the Wilshire/Vermont Station Apartments.
AvalonBay spokesman Kurt Conway said in an email that the complex is now fully leased, subject to the normal turnover of units. He added that each of the 21 affordable units has a wait list.
Conway also said that units designated for tenants meeting federal affordable housing eligibility requirements – while identical to units of similar size in the complex – generally tend to remain designated as such, unless a tenant no longer qualifying for affordable status wishes to remain in the unit.
While Rosenfeld maintains both projects have fared reasonably well through the ups and downs of the real estate cycle, he makes no secret of which model he prefers to generate affordable housing.
"I would definitely do the Wilshire/Vermont Station Apartments project again," he said. "It is a winner on both the economic and the social bottom line."
For reprint and licensing requests for this article, CLICK HERE.