TV, Film Studio Scores Stake in E-Sports Squad
INTERNET: Investment by Lions Gate latest sign of sector's growing power.
Friday, January 13, 2017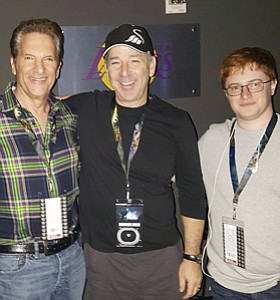 Another big L.A. player is diving into the digital world of e-sports, hoping to grab a piece of a market that is expected to grow to $1 billion as early as next year.
Santa Monica-based Lions Gate Entertainment Corp. announced last week that it was taking a stake in the Immortals e-sports team, which already counted Lionsgate Interactive Ventures President Peter Levin as an investor.
Levin said in a statement that the investment in Immortals was part of an effort to shape new entertainment outlets for the company.
"We're delighted to be an early mover in a market that has the potential to transform the face of sports entertainment," he said. "Our involvement in e-sports creates tremendous opportunities to develop new content and utilize our suite of distribution platforms for a coveted consumer demographic with compelling engagement metrics."
Terms of the deal were not disclosed, but insiders have valued e-sports teams such as the Immortals in the low eight figures. Peter Guber's Mandalay Entertainment Group along with several partners bought a similar franchise, Team Liquid, in September and created an ownership group, aXiomatic, to pursue a wide range of e-sports concerns. Both Immortals and Team Liquid are based in Los Angeles and compete on several different platforms, most notably "League of Legends," an online battle arena game created by West L.A.'s Riot Games.
E-sports teams generate revenue through sponsorship and prize money. At the "League of Legends" championships last year at Staples Center, for example, $4 million in prize money was handed out.
Immortals Chief Executive Noah Whinston said in a statement that the team is looking forward to working with its new partner.
"Lions Gate is the perfect entrepreneurial partner for our Immortals family," Whinston said. "Immortals and Lions Gate are both focused on developing new entertainment formats, and we're thrilled to collaborate with them at the cutting edge of (e-sports) media."
Both the Lions Gate Immortals deal and Guber's deal for Team Liquid include big-name executives who own pieces of more traditional sporting franchises as members of their ownership groups. Guber's e-sports play brought on former AOL Chief Executive Ted Leonsis, owner of pro hoops' Washington Wizards. Immortals has Steve Kaplan, one of the co-founders of downtown's Oaktree Capital Management and co-owner of the National Basketball Association's Memphis Grizzlies.
Leaving Oaktree
Speaking of Kaplan, the Oaktree founder officially stepped down as a principal at the firm on Dec. 31. The announcement about his retirement – he's officially listed as an "advisory partner" on the firm's website – was made in late October to little fanfare.
Kaplan has spent the last several years working on ventures away from Oaktree, according to a press release issued by the firm. In addition to his ownership interest in the Grizzlies, Kaplan is co-owner of Premiere League soccer club Swansea City in Britain, which he purchased in June.
Bruce Karsh, Oaktree's co-chairman and chief investment officer, said in a statement that he expects to still benefit from Kaplan's knowledge going forward.
"Steve has been an invaluable contributor to the firm's investment activity over the past 21 years," Karsh said. "We are pleased that we will continue to benefit from Steve's experience, expertise and knowledge through his role as an (advisory partner) moving forward."
While the loss of Kaplan hurts, at least his departure wasn't to a local competitor.
Oaktree also saw Scott Graves, head of its credit strategies group, depart at the end of the year. Graves was poached by Century City investment giant Ares Management, which announced his hiring last week. Graves will help lead the company's special situation fund by heading up its distressed asset investment group.
"I am thrilled to join longtime friends and new colleagues in Ares' Private Equity Group," Graves said. "The opportunity to oversee special situations fund management and further develop global distressed investing capabilities against the market backdrop of increased uncertainty is an exciting combination."
Oaktree announced Graves' exodus in September, but declined to comment further through a spokeswoman.
Broad Taps Krieger for Post
Billionaire Eli Broad's Broad Foundation announced last month that Katherine "K.C." Krieger would take over as the endowment's chief investment officer. Krieger, who has worked at the foundation since 2001, takes over from Marc Schwartz, who left to join Reservoir Capital Group in Westwood.
Staff reporter Henry Meier can be reached at hmeier@labusinessjournal.com or (323) 549-5225, ext. 221.
For reprint and licensing requests for this article, CLICK HERE.