Plan to Shutter Santa Monica Airport has Businesses' Fate Up in Air
Set for Take-Off?
Friday, February 10, 2017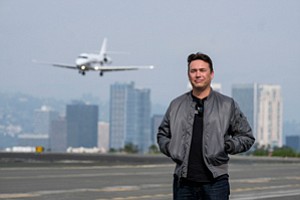 Proteus Aviation has been training pilots, including Rymann Winter, to fly since 1981.
Its days at Santa Monica Airport are numbered, however, after an agreement reached between the city of Santa Monica and the Federal Aviation Administration last month to close the airport after 2028. The decision has left Proteus and 20 other aviation-related businesses that operate at the airport uncertain about the future.
Winter, 43, bought the business in 2013, and said last week that he now had no idea whether Proteus will be able to relocate to another of the dozen-odd general aviation airports in the L.A. area.
"That's our goal," Winter said. "But there's no guarantee that residents surrounding other airports will want more flights or whether our Westside clientele will want to drive to another airport."
Proteus does about $600,000 a year in business, he said, and Winter and his two full-time and five part-time flight instructors are holding on to the hope that the airport won't close – that either the agreement will be overturned in court or that city officials will have second thoughts as the closure deadline nears.
The agreement – a consent decree – is designed to resolve years of litigation.
City leaders have long been pushing to shut the airport down in response to residents' concerns about noise and safety – there have been a few notable crashes in the surrounding neighborhoods, including one in which a plane piloted by actor Harrison Ford crash-landed at the adjacent Penmar Golf Course in 2015.
But the aviation industry and the federal government have fought to keep the airport, popular with business leaders and celebrities, open as a vital link in the region's aviation system.
Leases terminated
After failing for years to force the federal government to allow the airport's closure through litigation, the Santa Monica City Council voted last year not to renew the leases of its 21 aviation-related businesses. Those companies include two private terminal and fuel services, several flight schools, and various aircraft maintenance companies.
The FAA ruled, however, that the airport must stay open until at least 2023.
Santa Monica appealed that decision in federal court and was separately suing to end the federal requirement that the airport remain operational, but those matters became moot when the city and the FAA reached an accord with last month's consent decree.
Besides the aviation-related businesses, about 350 planes are kept there and make rental payments to the Santa Monica Airport Administration. The facility is also home to dozens of nonaviation businesses, including artist studios and commercial office tenants.
For reprint and licensing requests for this article, CLICK HERE.
Prev Next