Will city foil oil?
Prices up but prospects uncertain with new regulations in works
Friday, December 1, 2017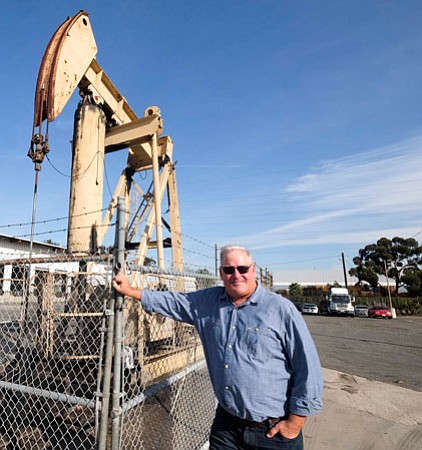 Rising oil prices and advances in technology that make production cheaper have local producers giving a second look to old and inactive wells around Southern California.
That might not matter in the city of Los Angeles, where officials are considering measures that would make it tougher – if not impossible – to operate existing wells or reactivate old ones.
The city moves come amid increasing complaints from residents near drilling sites, which have led to stringent rules on one operator with wells near the USC campus. City officials now are considering using an arcane zoning code provision to block another operator from restarting a South L.A. oil operation.
The city's petroleum administrator, meanwhile, is crafting a plan for buffer zones that could halt all drilling within broad areas around homes, schools and other sites deemed sensitive.
"In all the decades we've been here, this is the toughest political and regulatory environment to operate in within the city of L.A.," said Jeff Cooper, vice president of Cooper & Brain, a 70-year-old family-run oil producer that's based in the Wilmington district, and has about 20 small wells scattered across the city.
Rising prices
The city's looming crackdown comes at a crucial time for the local oil industry. Companies have endured years of belt-tightening brought on by the oil price collapse of late 2014 through early 2016, when oil prices plunged to as low as $26 a barrel from more than $100 a barrel.
But now, as prices have climbed steadily in recent months towards $60 a barrel, oil companies are finally beginning to consider new oil producing opportunities.
In the Los Angeles area, where mature fields have been producing oil for up to a century, that generally means reopening shuttered wells or trying to squeeze more oil through currently operating wells.
Companies can take advantage now of "enhanced oil recovery" technologies that have become more widespread over the last 15 to 20 years, according to Pavel Molchanov, an oil industry analyst in the Houston office of St. Petersburg, Fla-based Raymond James Financial Inc. Technologies that force more oil to through existing wells chiefly include water and steam injection.
Molchanov said the break-even oil price point for the use of water and steam injection technologies is about $40 a barrel.
Cooper, of Cooper & Brain, said the recent run up toward $60 a barrel put the question of whether he should expand production in the city back on his front burner. The city's recent actions are giving him pause.
"It doesn't matter if the price hits $80 a barrel – if you cannot get a permit, you can't get at the oil," he said.
Margita Thompson a spokeswoman for California Resources Corp., said the price still isn't right in Los Angeles with or without the regulation. Chatsworth-based California Resources, a $1.7 billion operation that spun off from Occidental Petroleum Corp., which departed Los Angeles for Houston in 2014 – is focusing most of its enhanced oil recovery efforts in its substantial holdings in oil-rich Kern County.
The company's active L.A. city wells are limited to a few near the Port of Los Angeles.
"We don't currently plan to drill new wells or significantly expand our production within the City of Los Angeles at current prices," Thompson said in an email to the Business Journal.
Buffer zones
The local industry's greatest concern are the pending buffer zones now being crafted as part of an ordinance the Los Angeles City Council passed several months ago.
"We still don't know if the buffer zones will apply only to new drilling, or whether they will include reopening old wells or even continuing to operate existing wells," said Rock Zierman, chief executive of the California Independent Petroleum Association, which represents small and mid-sized oil producers. "If old or existing wells are forbidden, then that constitutes a taking, and the owners of those wells need to be compensated."
Zierman and Cooper said they would like to see a two-way street for buffer zones.
"Right now, it seems all that's being talked about is restricting oil well operations near homes and schools," Cooper said. "But what about banning the construction of new residential units or schools within the buffer zones?"

City of L.A. Petroleum Administrator Uduak-Joe Ntuk said in an email that the buffer zone guidelines should be out early next year.
Cooper, meanwhile, said he also is concerned with recent city moves to target two oil operations in South Los Angeles. In October, the city imposed stricter standards on an oil field near USC operated by Sentinel Peak Resources of Englewood, Colo., including the building of a structure to house drilling equipment and more extensive monitoring. Local residents had complained to the city about noise, odors and health impacts from the drilling operation.
Sentinel Peak Resources has appealed the city's actions to a city planning committee, Ntuk said. Calls to Christine Halley, the company's director of environmental health and safety, were not returned.
The other case cropped up last month, when Los Angeles City Councilman Gil Cedillo introduced a motion to have city officials look into whether an obscure city code provision could be used to cancel "oil drilling districts" in which no drilling is currently taking place. Although the motion does not mention it by name, Cedillo confirmed to the Los Angeles Times that he was targeting the South Los Angeles site operated by Signal Hill-based Allenco. The company shut down operations in late 2013 amid complaints from nearby residents about odors and health impacts; ever since it has been trying to jump regulatory hurdles to restart the oil operations. Cedillo's proposal would make Allenco's shutdown permanent.
Allenco declined to comment for the story.
Cooper said he was more concerned about the Sentinel Peak case, which he fears could set a precedent where the city could come in and impose tougher standards on existing oil operations.
"For us, this all serves to increase uncertainty about operating in Los Angeles," he said. "That's why when the economics do pencil out to expand oil recovery operations, we will be looking first to our Orange County holdings."
For reprint and licensing requests for this article, CLICK HERE.