Immigrants Brought Roots of Success
Tuesday, August 29, 2017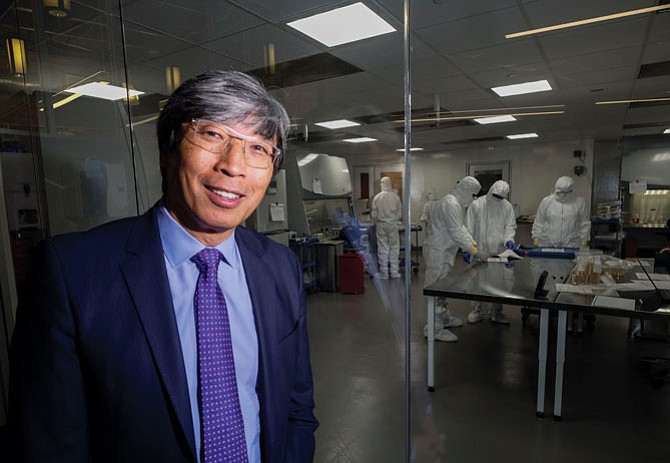 Patrick Soon-Shiong caught his first glimpse of Los Angeles from the crest of the Sepulveda Pass nearly 35 years ago.
"I drove down from Vancouver in a U-Haul truck," Soon-Shiong said. "I hit the 405 and I had never seen a freeway with eight lanes, 10 lanes, and I said, Where the heck am I? The enormity and the beauty of the place at the same time hit me."
It was 1983, and the South African son of Chinese parents was, like millions of others in Southern California, an immigrant of modest means in search of opportunity. He was making $27,000 a year – a sum he thought lavish – splitting time between an assistant professorship at UCLA and a research position at the then-VA Wadsworth Medical Center in West Los Angeles.
Three-and-a-half decades later, the surgeon-turned-biotech mogul has sold two companies for multibillion-dollar sums and founded a third for which he serves as chief executive, NantWorks of Culver City. Soon-Shiong said in an April interview that NantWorks is worth $8 billion based on a valuation drawn from outside investments.
That sum, coupled with proceeds from the previous company sales along with other investments, placed Soon-Shiong atop the Business Journal's List of Wealthiest Angelenos for the ninth consecutive year, with an estimated net worth of $18 billion. (See page 18.)
The doctor and entrepreneur said he plans to take the bulk of the sprawling company public next year as NantBio to raise capital and further his goal of curing cancer and transforming the American health care system by 2020.
While the hard-driving billionaire is an almost singular success story, his place as an immigrant entrepreneur in Los Angeles is shared with millions of others. More than one-third of Los Angeles County's 10 million residents are foreign born and they accounted for 51.5 percent of all self-employed workers in the region in 2014, according to a study released in February by the Los Angeles Area Chamber of Commerce.
Immigrants also make up one-quarter of the billionaires living in Los Angeles. Tesla Inc. founder and Chief Executive Elon Musk – also born in South Africa – holds the No. 2 spot with an estimated net worth north of $14 billion. He and Soon-Shiong are joined on the wealthiest list by 13 others, people who first called China, Hungary, Egypt, Israel, South Korea, Iran, France, Lebanon, Saudi Arabia, or Canada home.
National debate At a time when immigration is at the forefront of the political debate in Washington, the jobs, tax revenue, cultural influence, and philanthropic contributions of foreign-born residents in the nation's largest metropolitan area are difficult to ignore. From a purely fiscal perspective, the area's immigrant population generates a staggering amount of economic activity: some $233 billion in 2014, according to the chamber study, or almost 36 percent of the region's entire gross domestic product.
Prev Next
For reprint and licensing requests for this article, CLICK HERE.