Smoked Out?
Legal weed could test companies' hiring policies
Friday, September 23, 2016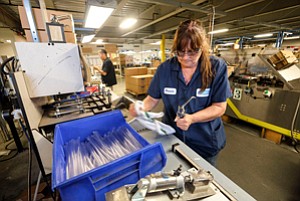 If California voters approve Proposition 64 in November and legalize recreational marijuana, hiring new workers could become considerably more difficult for Janice Blakely.
Blakely, vice president of human resources for Bobrick Washroom Equipment Inc., a North Hollywood manufacturer of commercial restroom partitions and other equipment, said the company has a "zero tolerance" drug policy that includes marijuana. The passage of Proposition 64 could lead to more people using pot, which means more job applicants are likely to fail drug tests.
That's been Bobrick's experience at its distribution facility in Centennial, Colo., where recreational marijuana has been legal for more than three years, she said.
"We have great candidates who come in and then they fail the drug screen and we cannot consider them," Blakely said.
Now she is concerned the same scenario could play out here, except on a larger scale as the company has some 200 positions at its North Hollywood headquarters and manufacturing facility.
Bobrick's experience could be repeated at hundreds of companies throughout Los Angeles that have similar zero-tolerance drug policies. Manufacturers, logistics firms, construction contractors – any business that relies on drivers or operators of heavy machinery – could face the prospect of more job candidates failing drug tests if recreational marijuana use becomes legal and therefore more widespread.
"Even if marijuana use becomes legal in California, employers do not have to accommodate drug use in their workplaces and many companies will choose to keep their zero-tolerance policies," said Dean Rocco, a partner at Wilson Elser Moskowitz Edelman & Dicker downtown and co-chairman of the firm's national labor and employment law practice group.
This is even more of an issue for marijuana than for alcohol or other drugs, largely because THC, the main chemical ingredient of marijuana, can remain in the human body for weeks. So if a candidate smokes or ingests cannabis and then schedules a job interview two weeks later, that candidate might still fail a drug test.
Informal estimates have put the number of medical marijuana users in California at roughly 1 million. If Proposition 64 passes, the number of users is projected to grow several fold over the next few years, especially after January 2018, when licensed pot shops are allowed to open.
Job impairment testing
The potential problems might not end with the hiring process. Companies in California have the right to test employees for alcohol or drug use if through observing employee behavior they determine "reasonable suspicion" of use exists. If tests find levels of drugs significant enough to impair performance, the worker can be disciplined or terminated.
The trouble is with marijuana testing, there is no standard for determining impairment, unlike, say, for alcohol, with a state limit of 0.08 percent concentration in the blood while driving.
"The fact that there is no standardized concentration level indicating impairment is a huge problem for employers," Rocco said. "It makes the reasonable suspicion argument very hard to follow through."
This is a major reason why the board of directors of the Los Angeles Area Chamber of Commerce this month voted to oppose Proposition 64.
"There is no way for the employer to tell if an employee is really operating under the influence," said Jessica Duboff, vice president of public policy for the chamber. "The testing protocols should have been developed before legalization, not after the fact."
With no recognized threshold, many employers are likely to default to zero tolerance, said employment attorney Paul Fleck, senior partner at Atkinson Andelson Loya Ruud & Romo in Cerritos.
He said a few of his clients currently tolerate medical marijuana use, as long as the workers show no obvious signs of being under the influence and perform well.
But the vast majority, he said, have taken a zero-tolerance approach, which remains defensible because under federal law marijuana remains illegal, Fleck said.
The California Trucking Association noted the supremacy of federal law and policy for its industry.
"CTA members and anyone with a commercial driver's license follows the rules set forth by the federal government," the association said in a statement. "Therefore, the passage of Proposition 64 would have no bearing on the federal laws which govern drug and alcohol use for commercial truck drivers."
Under federal law, all truck drivers are subject to random testing for marijuana and other drugs. The federal Department of Transportation guideline for marijuana testing is 50 nanograms per milliliter, which amounts to about one-20 millionth of a gram, essentially not much above zero concentration.
Rome Aloise, international vice president for Northern California for the Teamsters, said that his union has represented truck drivers in numerous challenges to this standard in Colorado after marijuana was legalized there, but each time, the federal guideline was upheld.
"Basically, under many of our contracts, if you get caught in a drug test with even a trace amount of marijuana, you're fired on the spot," Aloise said. "You don't get a second chance."
The bigger problem, Aloise said, is pre-employment testing, where there is no set impairment standard.
Morale concerns
While Fleck and other attorneys say employers might be on fairly solid legal ground with zero-tolerance policies, they can face operational and morale issues, especially if California voters opt to legalize marijuana use.
Chief among these concerns is what happens if a significant number of employees test positive for marijuana use. Fleck used as an example an offsite after-hours party of warehouse workers where joints would be passed around – a perfectly legal practice under California law if voters approve Proposition 64.
"If I've got eight warehouse employees and they all test positive for marijuana days after this party, then under my zero-tolerance policy, I must fire all eight of them," Fleck said. "But my warehouse won't function if I fire all of them, so what are my options, really?"
These issues have only rarely surfaced with the smaller universe of people using medical marijuana, but if recreational pot is legalized, both Fleck and Rocco expect more instances to arise.
Under Proposition 64, the state has a full year to enact regulations and a licensing program for marijuana businesses before the initiative takes full effect in January 2018. Fleck and Rocco said that lawmakers or regulators might address some of the workplace issues and establish some marijuana testing protocols, but resolution of those issues will likely be left up to the courts.
At Bobrick, Blakely said marijuana use on the job was not a pervasive problem at the bathroom equipment maker's Colorado facility.
"If we have reason to suspect marijuana use, such as atypical behavior or the smell of marijuana, then we might send the employee to a clinic for testing, the same way we do for alcohol or any other drug," she said. "We adhere to the zero-tolerance policy and all of our employees know this."
Nonetheless, Blakely said, if Proposition 64 does pass, the company will review its employee handbook and drug testing policies with attorneys.
Her biggest problem remains applicant screening before hiring. At the Colorado facility, as more job applicants failed drug tests after marijuana became legal in early 2011, HR executives began to take greater pains to tell applicants up front about the drug testing. Once so informed, many applicants decided not to show up for their job interviews.
The end result?
"A lot of promising candidates failed the drug screen," Blakely said. "So many, in fact, that it has shrunk the available pool of talent for us."
For reprint and licensing requests for this article, CLICK HERE.