A Look Ahead: What's on the agenda for Los Angeles business in the coming week
FINANCE: Congress mulls pulling plug on visas tied to foreigners' investments.
Friday, September 16, 2016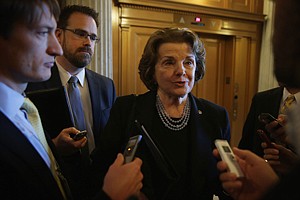 A controversial federal program that rewards foreign investors with visas in exchange for investments in economically depressed areas is set to expire at the end of the month if Congress doesn't intervene.
The EB-5 system allows overseas entrepreneurs to apply for special green card processing if they invest $500,000 to $1 million in a commercial enterprise that creates or preserves at least 10 full-time jobs. Although supporters say the program, which is more than 25 years old, has pumped billions of dollars into the country and created tens of thousands of jobs, critics point to its weaknesses – namely, instances of fraud and questions about the sources of the investment funds.
A bill to extend the program and improve its oversight was introduced last week in the House, but made little progress. The Judiciary Committee was to review it and make amendments last week, but the hearing was canceled.
Sen. Dianne Feinstein, D-California, has been outspoken about her disapproval of the program, and at a Judiciary Committee hearing earlier this year said EB-5 should be allowed to expire on Sept. 30.
Not only does the program provide a "special path for the wealthy to become citizens," she said, it's been a "big magnet for fraud."
"The program involves … huge pools of investments, recruited overseas far from the United States' regulators," said Feinstein at the hearing. "In case after case, the SEC has brought fraud charges against those who are alleged to have made false statements to lure investors, and then use the money for personal reasons."
While Feinstein has criticized the program for misuse, Rep. Judy Chu said the benefits of EB-5 should not be overlooked.
"I definitely feel it should be extended," said Chu. "It is a way of attracting investments that directly lead to jobs."
A Democrat, Chu's district stretches from Pasadena to El Monte, La Canada, and San Gabriel, and if EB-5 expires, her constituents will feel the impact, she said. There's a new Hilton Garden Inn slated for development in El Monte and a Marriott hotel proposed for Monterey Park that have both received EB-5 authorization.
"That (hotel) will bring in badly needed revenue to Monterey Park," Chu said.
Because most developments need more than a year to accomplish long-term planning, Chu is supporting a five-year extension of EB-5 as opposed to the standard one-year extensions.
Rep. Adam Schiff, D-Burbank, said that while EB-5 has brought substantial investment to the local and national community, there are significant problems that need to be addressed if it is to be continued.
"Its extension in the next funding package should be conditioned upon closing loopholes that may allow foreign investors to game the system without fulfilling their end of the agreement to stimulate our economy and create jobs in areas of high need," Schiff said in an emailed statement.
While he wouldn't comment on whether he'll vote for a new EB-5 bill, he did say that if the program is extended, it must take greater strides to address potential security risks and ensure funds that are coming in are from a traceable, legitimate source.
For reprint and licensing requests for this article, CLICK HERE.