Pot Investors Try to Get Jump on Budding Market
MARIJUANA: Recreational use could spark range of ventures.
Friday, September 9, 2016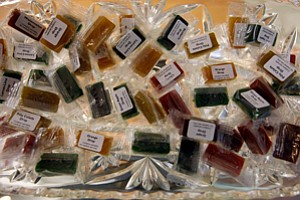 "If the adult-use ballot initiative passes, it will be a revelation for other parts of the country, both in terms of the economic impact and the social and cultural influence," said Kagia. "California will assume the mantle of the most important legal cannabis marketplace in the world."
If California would be the crown of the nation's cannabis industry, then Los Angeles would be the crown jewel, albeit a somewhat clouded one, according to Kagia.
"Los Angeles is the most robust municipal market in the world for cannabis, but it's a real challenge to figure out the exact state of that marketplace," he said.
The problem with accurately assessing the L.A. market stems from the way the state's cannabis laws have developed over the past 20 years.
The existing regulatory structure is a piecemeal framework drafted by various municipalities in order to address medical marijuana use, which was first legalized statewide under the Compassionate Use Act in 1996. While the law allowed for prescription access to medical marijuana, its sparse language did nothing to create a statewide regulatory structure for cultivation, distribution, or sale of the plant. Fifteen years after the law passed, storefront dispensaries began to proliferate and, lacking any statewide system, municipalities were left to create their own ordinances with guidance from the courts.
The city of L.A.'s medicinal marijuana market is governed by regulations enshrined under the 2013 voter-ratified Proposition D. The law grandfathered in 135 dispensaries as legal, however, estimates by longtime industry insiders put the number of pot shops operating in the city at more than 1,000. This gray market environment exists tenuously, with the Los Angeles city attorney and local law enforcement periodically raiding non-Proposition D-compliant outfits.
This uncertainty, which is mirrored at least to some extent in California's 58 counties and 482 cities due to the lack of statewide regulation, has kept away larger investors looking to put money down on the cannabis market. But the prospect of adult-use legalization in November and the already passed Medical Marijuana Regulation and Safety Act, which in 2018 will impose a statewide licensing system for medical marijuana dispensaries, has opened up the floodgates.
High-wire act
Because municipal ordinances would also govern how recreational use is enacted across California, Proposition D-compliant shops that have a cultivation and distribution component baked into their business plans have become the Holy Grail for investors.
While the new statewide regulations delineate which sector of the market a licensee can operate in (i.e., cultivation, distribution, and retail), the grandfathered-in stores could have access to all three, according to Jerred Kiloh, owner of Sherman Oaks dispensary the Higher Path and president of L.A. advocacy group United Cannabis Business Alliance.
For reprint and licensing requests for this article, CLICK HERE.