Pot Investors Try to Get Jump on Budding Market
MARIJUANA: Recreational use could spark range of ventures.
Friday, September 9, 2016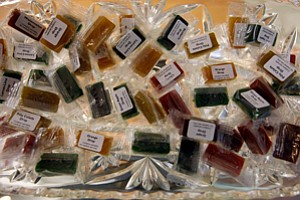 California's Nov. 8 referendum on adult recreational cannabis use, which is projected to contribute to a $6.5 billion market by 2020 if approved – has a growing number of investors high on the long-shunned commodity.
Polling from several outlets suggests the Adult Use of Marijuana Act (Proposition 64) has the support of more than 60 percent of likely voters. While passage is not a foregone conclusion, those numbers, combined with a nationwide change in pot governance and public attitudes toward the drug, have emboldened investors.
"We're at an inflection point," said Adam Bierman, chief executive of Culver City's MedMen, a management company serving the legal marijuana market that opened a $100 million cannabis investment fund in June. "It would have been irresponsible a year or two ago to get into something like this. Even a year ago this was cowboy stuff."
Today, cannabis is among the most trendy of investment opportunities. Venture funds, family offices, industry insiders, individual retirees – even college students – are probing the cannabis industry looking for ways to capitalize.
"It's like any other industry," said Jordan Gerber, chief financial officer of MJIC Inc., a Lake Forest-based consulting and financial services company that advises both investors and businesses in the cannabis space. "Maybe there are a few more pitfalls, but it's as good of an opportunity to get in on the ground floor as any."
Major players such as MedMen are moving in quickly, but smaller boutique businesses, especially in markets ancillary to cannabis cultivation and sale, are also hoping to cash in on the frenzy of investment activity.
One such investor-entrepreneur is Michael Katz, who launched disposable vape pen line Evoxe Laboratories last year after investing his own money alongside his family's. Katz, whose products contain a marijuana concentrate, said the bar to get into the space isn't much higher than other industries.
"It becomes clear that the only thing opposing innovation in this space is risk tolerance," said Katz, the Los Feliz company's chief executive.
Following precedent
California certainly isn't the only market seeing an influx of investment. Washington state and Colorado, which both legalized recreational pot via ballot initiative in 2012, have had relatively smooth rollouts of their adult-use laws. Money has poured into those states, but the financial opportunities there are dwarfed by what's possible in California, according to John Kagia, head of industry analytics at Washington, D.C.-based cannabis research and data-collection firm New Frontier.
"If the adult-use ballot initiative passes, it will be a revelation for other parts of the country, both in terms of the economic impact and the social and cultural influence," said Kagia. "California will assume the mantle of the most important legal cannabis marketplace in the world."
If California would be the crown of the nation's cannabis industry, then Los Angeles would be the crown jewel, albeit a somewhat clouded one, according to Kagia.
"Los Angeles is the most robust municipal market in the world for cannabis, but it's a real challenge to figure out the exact state of that marketplace," he said.
The problem with accurately assessing the L.A. market stems from the way the state's cannabis laws have developed over the past 20 years.
The existing regulatory structure is a piecemeal framework drafted by various municipalities in order to address medical marijuana use, which was first legalized statewide under the Compassionate Use Act in 1996. While the law allowed for prescription access to medical marijuana, its sparse language did nothing to create a statewide regulatory structure for cultivation, distribution, or sale of the plant. Fifteen years after the law passed, storefront dispensaries began to proliferate and, lacking any statewide system, municipalities were left to create their own ordinances with guidance from the courts.
The city of L.A.'s medicinal marijuana market is governed by regulations enshrined under the 2013 voter-ratified Proposition D. The law grandfathered in 135 dispensaries as legal, however, estimates by longtime industry insiders put the number of pot shops operating in the city at more than 1,000. This gray market environment exists tenuously, with the Los Angeles city attorney and local law enforcement periodically raiding non-Proposition D-compliant outfits.
This uncertainty, which is mirrored at least to some extent in California's 58 counties and 482 cities due to the lack of statewide regulation, has kept away larger investors looking to put money down on the cannabis market. But the prospect of adult-use legalization in November and the already passed Medical Marijuana Regulation and Safety Act, which in 2018 will impose a statewide licensing system for medical marijuana dispensaries, has opened up the floodgates.
High-wire act
Because municipal ordinances would also govern how recreational use is enacted across California, Proposition D-compliant shops that have a cultivation and distribution component baked into their business plans have become the Holy Grail for investors.
While the new statewide regulations delineate which sector of the market a licensee can operate in (i.e., cultivation, distribution, and retail), the grandfathered-in stores could have access to all three, according to Jerred Kiloh, owner of Sherman Oaks dispensary the Higher Path and president of L.A. advocacy group United Cannabis Business Alliance.
"Vertically integrated licenses are the golden ticket," Kiloh said. "If a dispensary is grandfathered in, it can operate more or less in a closed loop and keep things in-house."
Lack of access to a closed-loop cannabis business in Los Angeles isn't stopping investors and entrepreneurs, however. MedMen's Bierman said his firm's $100 million fund, which is expected to close by the end of the year, is targeting grow operations both in-state and in other markets where cannabis is legal. The company also recently opened a medical marijuana storefront in West Hollywood and is evaluating investments in ancillary businesses. For MedMen, the focus isn't on the short-term regulatory environment but the long-term prospects.
"This is private equity and institutional finance, which is not to say that we won't make great short-term returns, but we're looking at a longer time frame," Bierman said. "Whether or not Prop 64 passes or not is less important to me than the statement about where we're at. My thesis is that this is a $50 billion industry."
While large funds such as MedMen and Casa Verde Capital in Marina del Rey, which counts rapper Calvin Broadus ("Snoop Dogg") as a partner, are in a financial position to think this way, smaller investors often don't have that luxury.
MJIC's Gerber said he often counsels smaller investors to look at ancillary cannabis businesses as an entry point. Because the bar for investment is lower, many of those ventures are looking for just a few hundred thousand dollars in cash to expand operations. And because the plant itself isn't being touched, risk is mitigated.
Katzs' Evoxe, which is seeking an additional $500,000 in capital, falls into this second category of opportunities.
"There are larger funds with accredited investors who are vetting deals for the wealthier investor class," Katz said. "But there are also folks like my mom and family who know about (the cannabis industry) and want to get in on a smaller scale."
For reprint and licensing requests for this article, CLICK HERE.