Development Measure Yet to Find Poll Position
REAL ESTATE: Battle over restrictive initiative yields rival claims of support.
Friday, September 2, 2016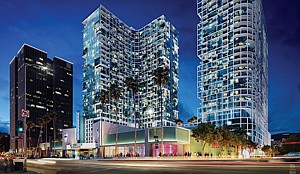 The L.A. city election might not be until March, but both sides of the Neighborhood Integrity Initiative battle have released polls showing completely opposite results.
The initiative would place a two-year moratorium on most major development projects with a residential component and severely restrict the practice of "spot zoning," or granting variances from community plans for specific projects. Initiative sponsors late last month submitted 104,000 signatures to the City Clerk's Office, more than 60 percent in excess of the number required to qualify the measure for the ballot.
Last week, opponents of the initiative – a broad coalition of business groups, labor unions, nonprofits, and civic leaders backed by funding from Crescent Heights, developer of the Palladium Towers complex in Hollywood and Australian mall developer-operator Westfield Corp., released results from their poll taken in May. (They said they waited to release the results until after the signatures were submitted.)
Not surprisingly, the opponents' poll, conducted by Fairbank Maslin Maullin Metz & Associates of West Los Angeles, showed the measure drawing only 37 percent support with 44 percent opposed.
In the press release announcing the results, opponents state that the questions took pains to discuss "the specific impacts the initiative would have on affordable housing and homelessness."
Initiative supporters, of course, dismissed this survey as results bought and paid for by megadevelopers and were quick to point out their own poll in April showing 70 percent support for the measure. The initiative's main financial sponsor is the AIDS Healthcare Foundation, which has its headquarters across from the proposed Palladium project and is vigorously opposed to Crescent Height's proposal.
So far, though, no neutral polling organization has taken a look at this measure. That will likely have to wait until after the November election.
Street Business Loans
Small businesses along 15 "great streets" designated by city officials can now apply for loans under a $4 million initiative from Sherman Oaks nonprofit lender Valley Economic Development Center that was unveiled last week.
Mayor Eric Garcetti launched the Great Streets Program shortly after taking office three years ago as a way to revitalize the city's major commercial corridors. So far, 15 streets have been designated for the program, including: Crenshaw Avenue in South Los Angeles, Cesar Chavez Avenue in Boyle Heights, Gaffey Street in San Pedro, Pico Boulevard in Mid-City, Van Nuys Boulevard in the San Fernando Valley, Western Avenue, and Westwood Boulevard.
The roughly 1,400 small businesses that front those streets will be eligible for business assistance and underwriting help for loans ranging from $1,000 to $250,000.
"Community businesses are the beating heart of our economy, and they deserve our support," Garcetti said in a statement announcing the program launch.
VEDC will work with the city's BusinessSource centers to coordinate free workshops and one-on-one consultations, and provide assistance with site selection and lease negotiation. The nonprofit will also canvass the 1,400 businesses on the first 15 Great Streets corridors to offer needs assessments and technical assistance.
"Great Streets Great Business recognizes the need to attract and retain new businesses such as restaurants and retail stores that can transform busy, but underutilized commercial corridors throughout Los Angeles by generating foot traffic," Nishen Radia, VEDC's chairman, said in a statement. "These enterprises are essential in creating a sense of community that may be missing or dormant in these areas, and will stimulate progress in surrounding neighborhoods as well."
Tax Crackdown
While the city of Los Angeles might be helping small businesses, Santa Monica is continuing to go after businesses that don't pay all the taxes they owe to the city.
Late last month, the beach city awarded MuniServices of Fresno a five-year contract renewal to audit $90 million the city collects in various taxes to see if all the taxes owed are paid.
MuniServices will be examining three tax revenue streams: business license taxes, which yielded $30.8 million in revenue during the 2015-16 fiscal year; hotels and home-sharing business taxes, which resulted in $51 million in revenue this past year; and parking facility taxes, which brought in $11 million to the city.
The audit will determine if all the entities that paid taxes paid the correct amount owed to the city. What it probably won't do is find businesses that have avoided paying city taxes altogether.
MuniServices was initially awarded the auditing contract in 2013 and has helped the city recover $1 million in revenue in the three fiscal years that have followed, according to a statement issued last month that announced the contract renewal.
Staff reporter Howard Fine can be reached at hfine@labusinessjournal.com or (323) 549-5225, ext. 227.
For reprint and licensing requests for this article, CLICK HERE.