Airline May Land Long Beach for International
AVIATION: JetBlue's plan may rise on proposal for airport inspection facility.
Friday, October 28, 2016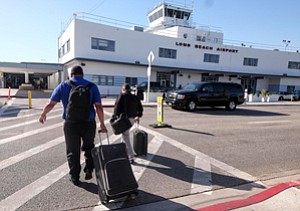 In a push to turn Long Beach Airport into its West Coast hub and to offer travelers an alternative to crowded LAX, JetBlue Airways Corp. has long sought to offer the first international flights out of the regional airport.
Now, that dream might soon be a major step closer to reality. In November, the Long Beach City Council is slated to consider whether to pursue construction of a U.S. Customs and federal inspection facility, a necessary precursor to allowing JetBlue and the airport's five other carriers to offer international flights.
A report commissioned by the airport found that the addition of the international terminal could be a catalyst for many as 1,400 jobs and $186 million in annual economic activity.
If Long Beach Airport were to incorporate international travel, it would join Los Angeles International Airport, Ontario International Airport, and Orange County's John Wayne Airport in offering international service. JetBlue, Long Beach's largest carrier, is the only airline that has applied to operate international flights there and is seeking service to Mexico and Latin America.
The New York-based airline waited until construction of a new terminal was completed before making a formal request for international flights, said Rob Land, JetBlue's associate general counsel and senior vice president of government affairs.
As part of JetBlue's request, the Long Beach airport authority contracted Jacobs Engineering Corp. for a feasibility study on both the U.S. Customs-inspection facility and the market for international travel.
The Jacobs report, issued earlier this month, found that international air traffic from LAX, Ontario, and John Wayne airports surged 30 percent between 2010 and last year, signifying enough demand for international air service out of Long Beach. It also concluded that international flights would be allowed under a 1995 noise ordinance capping the cumulative noise levels at the airport.
The Jacobs report estimates the cost of a Customs and inspection facility at about $20 million. The airlines would cover most of that expense through additional passenger ticket charges, while the city of Long Beach, which runs the airport, would kick in the remainder.
Two major obstacles remain before construction could begin: opposition from nearby residents who dispute the Jacobs study's findings that international flights are allowed under the noise ordinance, and approval from U.S. Customs and Border Protection, a unit of the Department of Homeland Security.
Of the two, Customs approval could prove the more difficult, according to Michael Boyd, president of Aviation Planning Consultants in Denver.
"Getting the Customs approval could take a couple years; a lot of political pressure must be applied," he said.
Boyd added that with so much traffic on L.A.-area highways, it makes sense for regional airports such as Long Beach to offer international flights.
Indeed, international passenger traffic at John Wayne has surged 50 percent to 302,000 for the first eight months of the year compared with the same period last year as the airport upgraded two gates to more easily move passengers to the Customs and inspection screening area.
However, Ontario saw an 8 percent dip in international passengers to 94,000 during the same period as the two Mexican carriers serving the airport – Volaris and AeroMexico – each cut one weekly flight.
LAX, the region's behemoth, saw a 9 percent increase to 15.2 million international passengers for the first eight months of this year as both domestic and international carriers added dozens of weekly flights. Hollywood Burbank Airport does not offer international flights and has no near-term plans to do so.
Things might soon change at Ontario as the locally run Ontario International Airport Authority is set this week to take over administration of the airport from Los Angeles World Airports, the city of L.A. agency that also runs LAX. Critics have long contended that LAWA has not done enough to market the Ontario airport.
For reprint and licensing requests for this article, CLICK HERE.