Cap-Trade's Future Looks Cloudy
POLLUTION: Participating firms fear losing credits worth millions of dollars.
Friday, November 4, 2016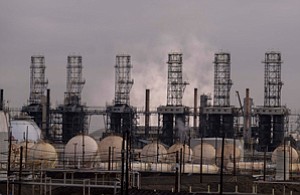 Local manufacturers, aerospace companies, oil refineries, and power plants have been buying and selling credits in one of the nation's oldest cap-and-trade pollution control programs for more than 20 years.
Now, local smog regulators are considering scrapping the market-based program, known as Reclaim, and returning to more traditional regulation. The South Coast Air Quality Management District is facing increased scrutiny from federal and state air regulators along with a legal challenge from a coalition of environmental groups seeking to shut down the program who say it doesn't achieve pollution reductions required by the state.
The possibility that Reclaim could be shut down is causing concern among many of the 272 industrial facility operators who fear increased costs and watching their investment in credits evaporate.
"We think it would be very counterproductive to dismantle Reclaim," said Michael Carroll, a partner in the Irvine office of downtown L.A. law firm Latham & Watkins, which represents about a dozen of the largest participating companies in the program, including several major oil refineries in Los Angeles County. "Shutting the program down would especially hurt those facilities whose operators chose to buy credits or chose other methods to reduce emissions."
Air district officials made public the possibility of scrapping the program last month. The first official step in the process could take place in February, when the district's 13-member governing board is set to consider an updated air quality management plan that includes the Reclaim shutdown option.
Even if the board decides to move ahead with that decision, it would take at least a couple of years to come up with a detailed plan to unwind the program and several more years to phase it out.
That's little comfort to major refineries and other participants that often must make capital expenditures years in advance. They are concerned that the thousands of credits that they have stockpiled at a cost of millions of dollars could essentially be wiped out and that in addition they would have to spend millions more to install pollution control equipment to meet new regulations.
"The whole premise of Reclaim when it was launched 22 years ago was to give participating facilities flexibility to invest in certain cleanup technologies or buy credits on the open market," Carroll said. "Now, many of the companies that chose to buy credits could find themselves being doubly penalized."
At least one major local business group has joined the call to preserve Reclaim: the Los Angeles County Business Federation, or BizFed.
"Should the district seek to move to a command-and-control method, it would require a huge undertaking to figure out how to manage and regulate the 272 facilities in Reclaim in a way that achieves any better outcomes," said Tracy Hernandez, BizFed's chief executive.
Industry support
Reclaim had strong initial support from major industrial companies because it sought to put into practice the relatively new concept of a market approach to pollution control. The program sets an overall cap, which declines over time, on the smog-forming emissions for each facility and then lets facility operators determine whether it is more economically feasible to invest in pollution control technology to meet the target or buy credits to offset excessive emissions.
The emissions targeted by Reclaim are nitrogen oxide and sulfur oxide, the key ingredients of smog. They are primarily found in internal combustion engines – common in industrial generators – and as byproducts of the burning of fuel.
The Reclaim market contains two sets of credits: short-term calendar year credits that sell for anywhere between $1 and $4 per pound of emissions offset and "perpetual credits" that sell for between $100 and $200 per pound, according to Joe Hower, an environmental consultant with the L.A. office of Ramboll Environ, a Copenhagen, Denmark-based consulting firm.
Besides oil refineries, such as PBF Energy's Torrance facility, and power plants, many other traditional manufacturing facilities are in the Reclaim program, such as metal forgers, printing plants, and asphalt producers. But some facilities in the program do not fit that mold, such as Walt Disney Co.'s Disneyland amusement park in Anaheim (because of onsite generators), Ralphs Grocery Co. (a Compton facility with industrial boilers and generators), and even the Los Angeles Athletic Club (a diesel generator).
While most of the major industrial emitters want to remain in Reclaim, some companies would welcome the program's demise.
Small Wilmington oil producer Cooper & Brain Inc. was initially included in the program because it had equipment at oil wells that emitted nitrogen oxide. But after the price of Reclaim credits soared in 2000 due to the energy crisis, the company switched to electrically operated equipment, according to Vice President Jeff Cooper.
Now, Cooper said, nitrogen oxide is only emitted on the rare occasions when a rig is brought in or a well needs to be repaired. But the paperwork burden associated with the Reclaim program is constant.
"Life would be easier for us outside of Reclaim," he said.
Environmental groups were suspicious of the program from the outset and have repeatedly called for its shutdown. They claim that allowing companies to buy credits instead of cutting pollution endangers the health of those living near the facilities and that it goes easier on polluters than traditional regulation.
In recent years, though, environmental groups said the biggest problem has been the periodic dumping of credits on the market when facilities shut down – 178 closures since the program began. That keeps credit prices down, making the option of purchasing credits even more attractive for polluters.
One egregious example occurred with the 2009 closure of Glendora-based Cal Portland Cement's plant in Colton after the real estate collapse sent demand for cement plunging.
That plant had accumulated enough credits to offset about 2.5 tons a day of nitrogen oxide, close to 10 percent of the total emissions allowed for all facilities in the program. Cal Portland sold the credits for $82 million, according to the district. With tens of thousands of credits flooding the market, prices plunged and the much cheaper credits were promptly snapped up by refiners and other Reclaim participants.
"Refineries have been masters at using the credit system to buy cheap credits and not make the pollution reduction changes," said Adrian Martinez, staff attorney in the L.A. office of San Francisco environmental group Earthjustice, one of the plaintiffs in the suit filed in March demanding that the air district shut down the Reclaim program.
The district last month approved a change designed to close most of the loophole exposed in the Cal Portland case: confiscating most credits from closed facilities instead of allowing the companies to sell them back on the market.
Among the options in the air quality management plan to go before the board in February is more frequent cuts in the total number of Reclaim credits.
So far, there have only been two cuts in the number of credits. Air district Deputy Executive Officer Philip Fine said last week that in coming years, more frequent evaluations of the program will have to take place, which are likely to lead to more frequent cuts in the number of credits. The goal: to keep the price high enough so that facility operators will look seriously at installing emission reduction technology.
For reprint and licensing requests for this article, CLICK HERE.