Up With Smoke
Law firms see green from growing marijuana field
Monday, March 21, 2016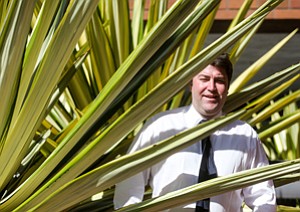 Once the domain of two-bit criminal defense lawyers and harried public defenders, cannabis-related legal work is slowly wafting its way from dank holding cells to the hardwood-paneled offices of "respectable" law firms as businesses come calling when they've gotten into a jam.
Take Hollywood's Nestdrop, for example, which hired West Hollywood solo practitioner Michael Grahn to argue before the California Court of Appeal that mobile cannabis delivery is legal under state and local law. The appeal, which was unsuccessful, stemmed from a city of L.A. injunction against the smartphone app maker.
"A lot of general business issues become more complicated," said Grahn. "Landlord and tenant issues are a good example. You not only have to deal with a typical lease, but the possibility of municipal action against both the tenant and landlord."
As the marijuana business shifts toward full legalization from the criminal realm – at least on the state and local levels – many attorneys have been willing to take on clients in the industry with the same enthusiasm they have for other corporate entities. Partnership disputes, intellectual property enforcement actions, regulatory advice, tax law consultations – the work being done for cannabis outlets could easily double as services rendered to an apparel company or restaurant chain.
Aaron Lachant, a partner at Nelson Hardiman in West Los Angeles, began representing medical marijuana dispensaries in 2009 and said the work he does for traditional corporate clients isn't terribly different from his pot practice.
"The civil courts have treated (cannabis-related) issues like any other business dispute," he said.
Civil actions in Los Angeles have ticked up, according to Lachant, in the wake of the passage of Proposition D in 2013. That city initiative mandated the number of dispensaries in Los Angeles be reduced to 135 storefronts, the number of outlets that were grandfathered in based on approved licenses from 2007. Hundreds of noncompliant medical cannabis businesses are in the process of being shut down – City Attorney Mike Feuer said his office has already closed more than 500.
Cannabis law practitioners said that in an attempt to circumvent closure or reopen after being shuttered, many illegal operations have adopted names similar to the 135 sanctioned dispensaries. Business partners that are signatories to some of those protected medical marijuana outlets also have reappeared after extended absences to claim operating privileges.
"Since the passage of Proposition D, we've seen a lot of illegal operations masquerading as legitimate businesses," Lachant said. "We repeatedly have gone to court to shut down these imposters."
Prev Next
For reprint and licensing requests for this article, CLICK HERE.