Up With Smoke
Law firms see green from growing marijuana field
Monday, March 21, 2016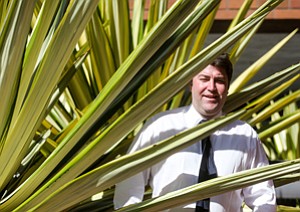 Once the domain of two-bit criminal defense lawyers and harried public defenders, cannabis-related legal work is slowly wafting its way from dank holding cells to the hardwood-paneled offices of "respectable" law firms as businesses come calling when they've gotten into a jam.
Take Hollywood's Nestdrop, for example, which hired West Hollywood solo practitioner Michael Grahn to argue before the California Court of Appeal that mobile cannabis delivery is legal under state and local law. The appeal, which was unsuccessful, stemmed from a city of L.A. injunction against the smartphone app maker.
"A lot of general business issues become more complicated," said Grahn. "Landlord and tenant issues are a good example. You not only have to deal with a typical lease, but the possibility of municipal action against both the tenant and landlord."
As the marijuana business shifts toward full legalization from the criminal realm – at least on the state and local levels – many attorneys have been willing to take on clients in the industry with the same enthusiasm they have for other corporate entities. Partnership disputes, intellectual property enforcement actions, regulatory advice, tax law consultations – the work being done for cannabis outlets could easily double as services rendered to an apparel company or restaurant chain.
Aaron Lachant, a partner at Nelson Hardiman in West Los Angeles, began representing medical marijuana dispensaries in 2009 and said the work he does for traditional corporate clients isn't terribly different from his pot practice.
"The civil courts have treated (cannabis-related) issues like any other business dispute," he said.
Civil actions in Los Angeles have ticked up, according to Lachant, in the wake of the passage of Proposition D in 2013. That city initiative mandated the number of dispensaries in Los Angeles be reduced to 135 storefronts, the number of outlets that were grandfathered in based on approved licenses from 2007. Hundreds of noncompliant medical cannabis businesses are in the process of being shut down – City Attorney Mike Feuer said his office has already closed more than 500.
Cannabis law practitioners said that in an attempt to circumvent closure or reopen after being shuttered, many illegal operations have adopted names similar to the 135 sanctioned dispensaries. Business partners that are signatories to some of those protected medical marijuana outlets also have reappeared after extended absences to claim operating privileges.
"Since the passage of Proposition D, we've seen a lot of illegal operations masquerading as legitimate businesses," Lachant said. "We repeatedly have gone to court to shut down these imposters."
Among the other firms warming to the practice is downtown L.A.'s Dordi Williams Cohen, which does both civil and criminal work related to the marijuana industry. The firm recently settled a case between a dispensary and its former employee.
Gateway business
The size and scope of these disputes are only expanding as the legal sector of the pot industry grows. The above-board marijuana market in the United States grew to $5.4 billion last year from $4.6 billion in 2014, according to ArcView Group, a San Francisco market researcher. California's medical marijuana market alone accounted for $2.7 billion in sales.
Cannabis advocacy groups in the state are pushing for a referendum on the legalization of recreational use in November's general election, which, if passed, would almost assuredly push the market even higher.
If Washington state, Colorado and Oregon – the three states that have legalized recreational use – are indicative of that potential future, a new and incredibly robust regulatory environment would accompany the projected financial growth.
But there are challenges for lawyers and firms looking to expand into the field. Alison Malsbury, an attorney at Seattle's Harris Moure who works with cannabis businesses on intellectual property issues in several states including California, said that one of the initial hurdles for lawyers looking to expand their practice into the marijuana space is overcoming the idea that the work is unethical.
"One of the issues that people wonder about is the ethical issue given that cannabis is illegal on the federal level," she said. "It's a difficult position for attorneys because you're essentially advising clients on how to breach federal law."
But she said as long as attorneys are upfront with clients about the implications of federal marijuana laws, there's no real issue. State bar associations, typically the licensing bodies for attorneys, have given the OK for lawyers to represent cannabis businesses in places where medical and recreational use is legal.
"Cannabis is not all that different from any other highly regulated industry," Malsbury said. "I work with (cannabis businesses) on the same issues that I work on with noncannabis businesses."
Also, the specter of federal law preempting state marijuana laws has likely given some of the bigger firms' pause, according to Grahn, who represented Nestdrop. He said even small and medium-size firms in recreational use-friendly jurisdictions such as Colorado are still wary about jumping into the fray.
"I spoke to two or three firms who were still worried about federal preemption issues and what sort of opinions were floating around at the federal level," he said. "A lot of the bigger firms don't want to touch this until it's fully legal."
Budding practices
As with other industries, there are specialized practices within the broader framework of marijuana law. Some attorneys only advise municipalities on their rights and obligations to regulate the medical marijuana industry in a particular jurisdiction; others, like Malsbury, focus on branding and marketing issues that commercial retail operations face. The development of those specialties doesn't follow a strict pattern, but often begins with experience outside of cannabis law.
Lachant's concentration on medical marijuana businesses, for instance, grew out of Nelson Hardiman's traditional focus on the health care industry. The 17-lawyer firm's initial foray into cannabis law came almost a decade ago when it began counseling physicians on how to provide patient recommendations for pot without putting their medical licenses at risk. That led to contact with dispensaries, and, Lachant said, the realization that there was a growing demand for high-level legal counsel in the space and a dearth of well-qualified practitioners.
While Lachant's transition into cannabis law happened relatively organically, some attorneys are more direct in their approach.
For example, retired Los Angeles Superior Court Commissioner Steven Lubell made a deliberate choice to leave the bench and begin developing a cannabis practice in 2010.
He now uses his experience as a former officer of the court to help both local government officials and cannabis businesses bridge gaps in communication and understand regulatory requirements.
While a pragmatist in finding solutions to his clients' problems, Lubell retains a bit of wonderment for how cannabis law is developing.
"It's fascinating how it's all is shaping up," he said.
For reprint and licensing requests for this article, CLICK HERE.