All Fired Up
New California law has pot shops jockeying to roll up required city of L.A. license.
Monday, March 14, 2016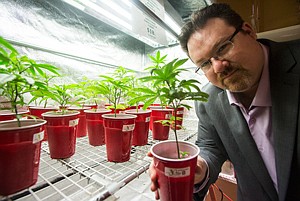 Hundreds of pot shops in L.A. are battling for survival as the city must soon draw up new rules for which medical marijuana dispensaries should be allowed to get operating licenses and which ones should go up in smoke.
Thanks to a new state law, all medical pot shops in California must have both a state and local license by Jan. 1, 2018. Trouble is, the city of Los Angeles hasn't granted licenses to any of the 475 to 1,000 dispensaries estimated to be operating in the city.
That has set in motion a battle over which of those pot shops should be allowed to get one of what will likely be a very limited number of licenses.
On one side are the 135 dispensaries that were in operation prior to a mid-2007 moratorium and that were granted limited immunity from closure efforts under 2013's Measure D approved by voters. They are pushing for exclusive licenses for themselves, or at least first crack at any licenses the city issues.
"We've followed all the rules all the way since 2007, so that should count as merit toward any license granted by the city," said Brennan Thicke, founder and operator of the Venice Beach Care Center dispensary.
On the other side are the hundreds of shops not grandfathered in by Measure D and dozens of dispensary operators outside the city that want in on L.A.'s lucrative medical marijuana market.
"L.A is the largest medical marijuana market in the country and all we want is a fair shot at being able to operate there," said Aaron Herzberg, partner and general counsel of CalCan Holdings, which operates a dispensary in Santa Ana and has two more under construction in that city.
Herzberg, said he's forming a coalition of dispensary operators to pressure city of L.A. officials to set up a competitive bidding process that's open to all comers.
More closures?
However this battle shakes out in coming months, hundreds of dispensary operators will likely be forced to close, as city officials are unlikely to dole out many more licenses than the 135 dispensary cap under Measure D. That's because local residents and even some area businesses have been pushing city officials hard to close as many of them as possible, citing concerns over crime around dispensaries.
Indeed, City Attorney Mike Feuer has trumpeted his efforts in closing 719 of them since he took office in July 2013, with 63 cases seeking dispensary closures still pending. Feuer's office estimates that besides the 135 dispensaries authorized under Measure D, an additional 340 "illegal" pot shops remain, according to Feuer spokesman Rob Wilcox. That would put the total number of dispensaries in the city at roughly 475.
Others put that total number as high as 1,000, saying many of the dispensaries that were closed subsequently opened up under different names and ownership structures and have so far managed to stay under the radar.
City officials have tried to use other ways to crack down on the hundreds of dispensary operators not grandfathered in under Measure D. In January, the City Council voted to stop issuing business tax certificates to medical marijuana dispensaries. City finance officials had been issuing such certificates to dispensary operators regardless of their status under Measure D.
But now a course reversal of sorts looms. The state law passed in September, known as the Medical Marijuana Regulation and Safety Act, will force city officials to issue licenses to dispensaries by Jan. 1, 2018. If Los Angeles fails to do so, the state can step in and shut down all dispensaries in the city.
City officials said in the fall that they would try to get clean up legislation allowing the 135 dispensaries authorized by Measure D to continue operating without formal licenses. But so far, no such provisions have shown up in the cleanup bill moving through the Legislature.
Lobbying forces
The City Council and city agencies might have been slow to act but lobbying forces on each side have wasted no time in making their case.
Some of the 135 premoratorium dispensaries, including Thicke and his Venice Beach Care Center, have hired veteran lobbyist Harvey Englander to convince council members to grandfather them into any new licensing scheme.
Englander told the Business Journal last week that these dispensaries have followed all the city laws and that failure to grandfather them in would be tantamount to confiscating their right to operate.
"I don't recall any time ever that a law has been passed that would tell people operating in the city of L.A. that they can no longer operate but must be thrown into a pool to see if they can get a permit," he said.
Englander and the group of dispensary owners he represents would prefer to see the number of legal dispensaries remain capped at 135, though they acknowledge the city has the right to ask voters to increase the number.
But another group of premoratorium dispensaries doesn't want a cap. They want the medical marijuana market opened up to other dispensary operators and others in the industry – such as marijuana growers – just so long as they get first crack at licenses.
"We all deserve to stay open because we've been battling it out with the city for 10 years," said Yami Bolanos, a Chatsworth dispensary operator who also is founder and president of the Greater Los Angeles Collective Alliance. "But we do want to see the industry open up in Los Angeles: other segments of the market like cultivators, edible makers and nonsolvent manufacturers of cannabis oil. If they don't get permitted, then I won't get to buy their product after the new state law goes into effect in 2018."
But dispensary operators who have not been in Los Angeles for at least nine years say that grandfathering in premoratorium operators rigs the game against them, especially if the number of dispensaries remains at or close to the current authorized cap of 135.
"There's a whole new breed of medical marijuana operators and entrepreneurs out there that won't get the chance if the premoratorium operators get preferential treatment," said CalCann's Herzberg.
His new coalition, still in the formation stage, is pushing for city officials to set up a merit-based competitive bid system for licenses, similar to the competitive bidding process for city contracts.
The medical marijuana law and its provisions are separate from the multiple measures to legalize recreational marijuana that are aiming for the November ballot. If one of those measures passes, it would set up a separate licensing framework.
For reprint and licensing requests for this article, CLICK HERE.