L.A. Metro Sued Over Downtown Project
Thursday, July 21, 2016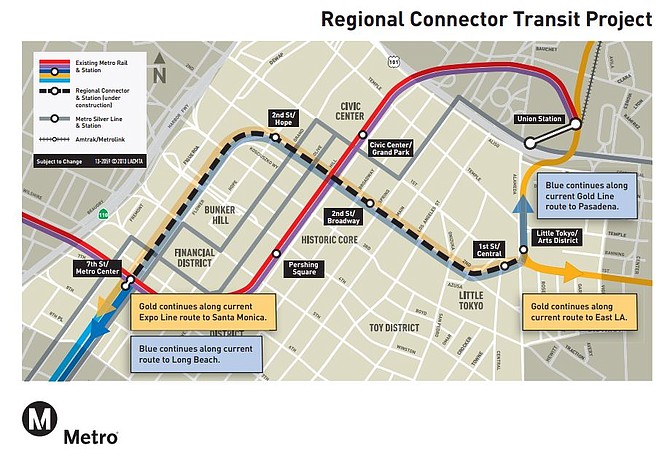 An outdoor mall in Little Tokyo sued the Los Angeles County Metropolitan Transportation Authority Wednesday in an attempt to halt construction of the major rail project in downtown.
Japanese Village Plaza filed a complaint and a request for temporary restraining order in Los Angeles County Superior Court alleging two construction companies, at Metro's behest, planned to inject concrete into the ground that would encroach on property owned by the shopping mall without proper permits. A judge denied the shopping mall's request to temporarily halt the project Thursday morning, according to Japanese Village Plaza's lawyer Robert Crockett. A hearing on a preliminary injunction is set for August 12.
The work is part of the ongoing $1.5 billion Regional Connector project that will bridge a major gap in the city's public transportation hub. Japanese Village Plaza is owned by Malibu-based American Commercial Equities who also manages the property.
The filings claim Japanese Village Plaza found out about the concrete injection plans while taking the deposition of one of the contractors. The contractor revealed his employer, tunneling specialist Hayward Baker, planned to do a concrete injection that the shopping mall says isn't covered under the existing land use agreements or "easements."

The Metro released a statement Thursday after the judge denied Japanese Village Plaza's temporary restraining order request saying they believed the project was fully permitted.
"Metro remains confident that we have the necessary permits/easements in place to allow us to begin this important work in preparation of actual tunnel mining set to start later this year," the statement reads.
The lawsuit is not the Japanese Village Plaza's first attempt to stop the project. It's filed two other actions against Metro and has a federal court case on appeal currently at the U.S. Court of Appeals for the 9th Circuit.
Legal reporter Henry Meier can be reached at hmeier@labusinessjournal.com. Follow him on Twitter @henry_meier.
For reprint and licensing requests for this article, CLICK HERE.