A Look Ahead: What's on the agenda for Los Angeles business in the coming week
EVENTS: Comic-Con real draw for Hollywood with its nerd consumer power.
Friday, July 8, 2016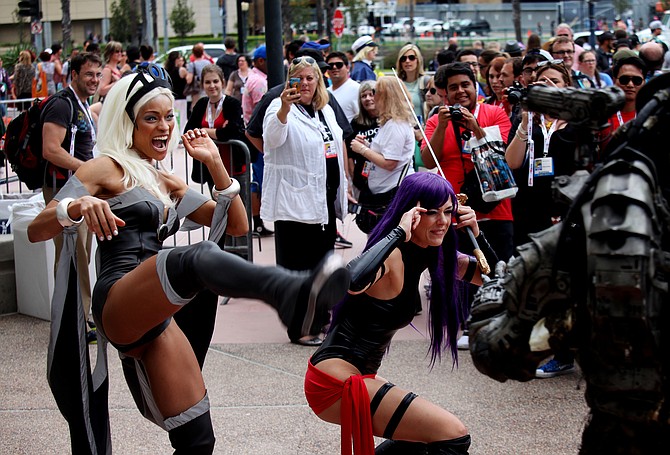 Legions of fans and journalists along with L.A.-area entertainment executives and Hollywood stars will soon flood into San Diego for the influential annual pop culture festival Comic-Con International.
Considered the place where fledgling film and TV projects live or die based on buzz from the 160,000 conventiongoers, this year's event will be held July 21-24.
Blockbuster movies will also be showcased, among them a first look at footage from "Guardians of the Galaxy Vol. 2," distributed by Walt Disney Studios, and "Kong: Skull Island," from Warner Bros. Pictures, both set for release next year. Less surefire hits hoping to get momentum at Comic-Con will also be unveiled, such as "Trolls" from DreamWorks Animation; Sony Pictures Entertainment's "Sausage Party"; and director Oliver Stone's biopic of whistleblower Edward Snowden, "Snowden," from Open Road Films.
Interactive entertainment plays a big part, too, with a behind-the-scenes look at the massively anticipated "Gears of War 4" video game that will include reveals about the characters and story for the latest iteration of the best-selling franchise.
The annual event, which started in 1970 as a gathering for comic-book enthusiasts, has not entirely forgotten its roots and remains the biggest launch pad for new and revived comics. "Wonder Woman" will be relaunched by DC Entertainment at Comic-Con in celebration of the character's 75th anniversary and next year's movie featuring the warrior superheroine.
While the festival at the San Diego Convention Center, which sold out months ago, should be enough to satisfy fans, there is a wealth of pre-Comic-Con events and parties to seek out as well, including a popular one much closer to home.
The Pre Comic-Con Bash is put on by Jeffrey R. Gund, founder of entertainment resource site Infolist.com in Hollywood. The third annual event, to be held July 12 at the Ohm Lab nightclub at the Hollywood and Highland Center, will feature comic icon Stan Lee as he previews his first-ever VR experience; Comic-Con Co-founder Mike Towry; and screenwriter David Hayter, who wrote two of the "X-Men" movies, among others.
Gund said people love Comic-Con because it gives them a chance to come face to face with the creators of their favorite characters and stories, interactions that can often lead to further opportunities.
"The key to any successful business is to a certain degree, is networking and being connected to the right people," he said. "That's pretty much what Infolist and this event is all about, too: putting people in the room with real decision-makers, high-level people who know the industry and work in the industry who can hire you or connect you with somebody who can."
For reprint and licensing requests for this article, CLICK HERE.