Pacific Waves
INVESTMENT: China scales L.A.'s economy, but to lesser degree than Japan in 1980s
Friday, December 30, 2016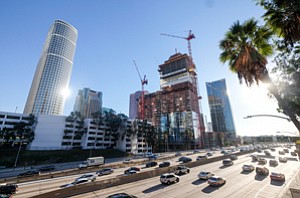 They are buying up Hollywood studios. They are making huge investments in L.A. real estate. Their consumer products are driving the local economy.
While those alarms sound very much like they are being sounded over the spate of recent Chinese investment activity in Los Angeles, they also recall the apprehension when Japanese investors came knocking 30 years ago.
Even as the growing inflow of Chinese money makes headlines today, Japanese companies are still the top foreign investor in Los Angeles, according to a recent economic report. China didn't even make the cut for the top 10 foreign job creators in Los Angeles County.
Los Angeles housed more than 200 Chinese companies in 2015, employing 3,800 and accounting for $279 million in wages, according to Foreign Direct Investment in Southern California, a report by the Los Angeles County Economic Development Corp. and World Trade Center Los Angeles. That paled in comparison to Japan, whose 1,263 local companies provided 42,000 jobs and $2.8 billion in wages that year.
China has been following the same general path as Japan, but isn't as far along, according to Stephen Cheung, president of the WTC.
"I think we are in early innings for Chinese investments across the industrial and real estate landscapes in Los Angeles," he said.
The surge of Japanese investment in the L.A. area began in the 1960s and '70s with the building of North American headquarters for auto and consumer electronic product companies such as Toyota Motor Sales and Honda Motor Co. It shifted to acquisition of office properties in downtown in the mid-1980s, and finally to the purchase of Columbia Pictures and Universal Studios.
At one point in 1986, Japanese companies owned 16 downtown high rises, comprising one-fourth of all office space in that market.
The Japanese surge in high-profile investments diminished after that country's economy plunged into recession in the early 1990s. But it never went away; instead, it diversified into nearly every sector of the local economy.
The Japanese initially set up operations in Los Angeles to help manage products that were being imported into this country, chiefly automobiles and electronics, said Bill Allen, LAEDC's chief executive.
"It was really more of an effort to establish a global brand for these auto and electronics companies," he said.
Over time, Japanese companies began to design and manufacture products here, building automotive design studios and entering the entertainment industry, he added.
Today, the Japanese presence in the L.A. economy is widespread, though somewhat taken for granted.
For reprint and licensing requests for this article, CLICK HERE.
Prev Next