Aecom Joint Venture Team Wins San Onofre Decommissioning Project
Tuesday, December 20, 2016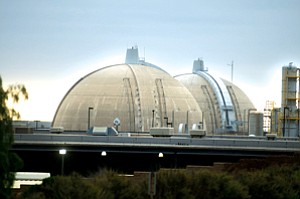 Editor's note: This story has been corrected to reflect that the contract is not for the full $4.4 billion cost of the project.
A joint venture team including L.A.'s Aecom Technology Corp. has been awarded a contract for part of the decommissioning process of the shuttered San Onofre nuclear generating station in northern San Diego County.
Southern California Edison, the utility subsidiary of Rosemead-based Edison International and the majority owner of San Onofre, awarded the contract to Aecom and Salt Lake City-based Energy Solutions, the companies announced Tuesday. The contract covers only part of the $4.4 billion decommissioning project, and terms of the deal weren't disclosed.
One of the largest nuclear power plant decommissioning projects in U.S. history, it is expected to create about 600 jobs over its 10-year duration. It will include used fuel management, radiological decommissioning, and site restoration.
San Onofre, which is 78 percent owned by Edison and 20 percent owned by Sempra Energy subsidiary San Diego Gas & Electric, supplied roughly 2,200 megawatts of electricity to the Southern California grid when operational. It was shut down in January 2012 after a small radioactive leak was discovered. Further investigation revealed thousands of tubes in steam generators recently rebuilt by Mitsubishi Heavy Industries had suffered excessive wear, leading to a decision in 2013 to permanently shut down the facility.
Since then, there has been a continuing battle over who would bear the brunt of the ongoing costs related to the shutdown and the decommissioning costs. Ratepayer and consumer advocates have been pushing for most of the costs to be borne by shareholders, while the utilities have sought more of an even split. An agreement was reached in April 2014, but that agreement has been called into question after revelations in 2014 that Edison executives had inappropriate contact with officials from the Public Utilities Commission on the issue at a meeting in Warsaw, Poland; Edison ultimately paid a $16.7 million fine.
Public policy and energy reporter Howard Fine can be reached at hfine@labusinessjournal.com. Follow him on Twitter @howardafine.
For reprint and licensing requests for this article, CLICK HERE.