A Look Ahead: What's on the agenda for Los Angeles business in the coming week
TOURISM: Forum to look at welcome opportunities in hospitality with Rams.
Friday, August 19, 2016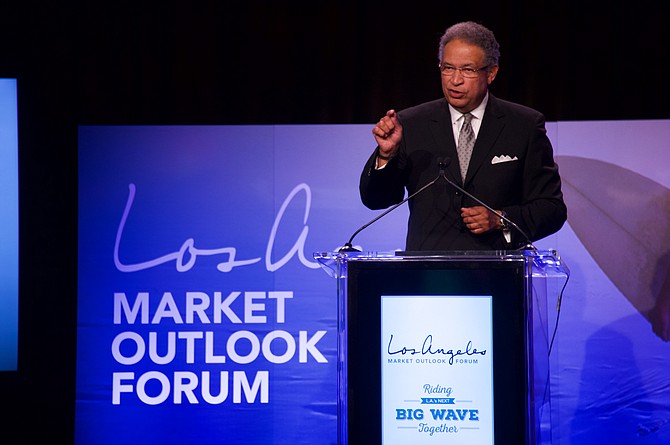 Fifty million tourists are expected to pour into Los Angeles in 2020, and the Los Angeles Tourism and Convention Board (L.A. Tourism) wants to help local businesses meet those travelers' needs.
This year, sports is at the forefront of the conversation as the Rams' return to Los Angeles is expected to bring a wave of pro football enthusiasts to town and shine a spotlight on the region.
"This is probably one of the biggest game-changers for the city in a very long time; the welcoming of the Rams back home and the building of a $3 billion stadium," said Ernest Wooden Jr., chief operating officer of L.A. Tourism.
The group will host a forum at Loews Hollywood Hotel on Aug. 25 that will include presentations on travel trends and tourism forecasts as well as a sneak peek at a marketing plan for the coming year.
More than 1,000 attendees are expected at this year's event, hailing from all corners of the hospitality industry, including hotel operations and management, amusement parks, transportation, and banking. The program portion of the day will begin at 1 p.m. and be followed by a brief reception. Admission to the event is free for L.A. Tourism members and $199 for nonmembers.
Speakers at the event, many of whom work for L.A. Tourism, plan to share data-driven market information intended to help businesses make educated decisions about the upcoming year, from budgets to staffing. Presentation topics will include travel industry patterns, marketing to millennials, and meeting industry trends.
"Everyone makes plans in preparation for next year and the year after that, and they (need to) have a sense of how deep the market is going to be," said Wooden.
The forum will also feature a representative from LA24, the committee trying to bring the Summer Olympics to Los Angeles in 2024, as well as Kevin Demoff, the Rams' chief operating officer.
The team's forthcoming Inglewood stadium will host the 2021 Super Bowl, an event that will attract 80,000 to 100,000 visitors, said Wooden, who noted it could also provide a boost to L.A.'s bid to secure the Olympics.
Over the last five years, Los Angeles has seen record-breaking tourism statistics, he added, reaching a peak last year with more than 45 million visitors. These travelers spent more than $20.5 billion on hotels, dining, shopping, and taxes. Visitors from China alone spent more than $1 billion, a dramatic shift from a decade ago when China didn't even crack the top 10 list of countries whose tourists visit Los Angeles.
"They're now our No. 1 overseas visitor," said Wooden.
Integral to meeting the 50 million visitor projection is the $14 billion Los Angeles International Airport modernization project, and in order to accommodate this record-breaking number of visitors, L.A. will need to add to its hotel stock. There are more than 9,000 hotel rooms under construction or in final planning stages countywide, about three-fourths of the number needed by 2020.

For reprint and licensing requests for this article, CLICK HERE.