Air District Works to Iron Out Rule on Forging
METALS: Officials hope to reduce odor production in Paramount, other cities.
Friday, August 19, 2016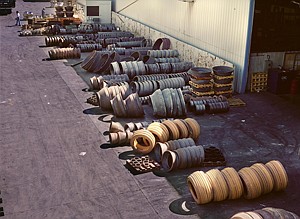 After years of complaints by residents about odors in Paramount and other southeast Los Angeles County cities, the South Coast Air Quality Management District identified the likely source as metal forging facilities and has begun developing a rule to clamp down on emissions from these plants.
The agency held a town hall in Paramount last week to review the odor complaints and update residents on the development of the rule. According to a background paper released by the agency in preparation for the town hall, the initial odor complaints in 2013 centered on Carlton Forge Works, which according to the company's website produces "seamless rolled rings and open and closed die forgings for the aerospace, gas turbine, industrial, commercial, and nuclear industries."
The AQMD investigated and found air samples contained elevated levels of nickel, chromium, and hexavalent chromium. It also found that these contaminants likely did not originate solely with Carlton but also at several other nearby metal forging plants.
District investigators also found that levels for some contaminants dropped between 2013 and this year around the plant after Carlton voluntarily made changes to its metal grinding process, including moving the grinding operations closer to dust collection traps and enclosing the entire area.
The agency decided to draft a rule aimed at reducing toxic emissions from all 22 identified metal forging plants in the L.A. area in 2014, with a draft likely to be released sometime next year. It is expected to codify some of the voluntary steps that Carlton took to reduce its emissions.
Less clear at this juncture is whether the district's governing board will adopt the rule. The 13-member board now has a majority of elected and appointed officials who are Republicans; some of those board members have been outspoken about reducing the agency's regulatory burden on business.
Selling Water Short?
L.A. land management and water development company Cadiz Inc. has been looking for months for a way to reverse a federal government decision that would slow and complicate its plan to develop a water storage facility in the Mojave Desert. And through a bizarre turn of events, Cadiz just might have found it.
The Bureau of Land Management's California office ruled in October that Cadiz must go through a complete environmental review process in order to get a permit for its planned water pipeline alongside a railroad. Cadiz had hoped to avoid another lengthy and expensive environmental review and argued, unsuccessfully, that the water could also be used for railroad purposes.
Immediately after the decision, Cadiz's stock plunged more than 50 percent.
But a Wall Street Journal editorial last week could give Cadiz the weapon it's been looking for to overturn the decision. The editorial revealed a lengthy chain of emails between a BLM regulator in Sacramento who oversaw the Cadiz review and a short-seller investor. (Cadiz supplied the emails to the Journal.)
The editorial strongly hints that through this email exchange, the short-seller had advance knowledge that the BLM was going to issue a ruling against Cadiz and that he could have positioned himself beforehand to benefit from the resulting stock plunge.
At the very least, a Securities and Exchange Commission investigation involving the BLM is likely to occur, according to Larry Kosmont, an L.A. economic development consultant who was on the Metropolitan Water District board when the Cadiz matter came up several years ago. As a result, he said it is possible the BLM decision would be set aside until the investigation is complete; whether the decision would be ruled invalid would depend on what the investigation turned up.
Ballot Gambit
The Coalition to Preserve L.A., an organization chiefly sponsored by the AIDS Healthcare Foundation that has qualified an initiative for the March ballot to curb megadevelopment in Los Angeles, made a last-ditch effort last week to secure a deal with the city and avoid a ballot-box showdown.
The coalition met with Mayor Eric Garcetti and made a series of demands, including banning private meetings among developers and/or their lobbyists and city elected officials or planning commissioners.
While Garcetti declined to announce a formal deal with the coalition, he did offer a concession while appearing on "Ask the Mayor" on KNX-AM (1070). He said he would order that all meetings among developers/lobbyists and planning commissioners would be made public so that everyone would know the meetings took place.
Coalition campaign director Jill Stewart said that while that's a good start, it doesn't go nearly far enough and that the ballot measure would go forward.
"We're not just asking for making the public aware that these meetings are taking place, but for outright elimination of any closed-door meetings between developers and commissioners or other elected officials," she said.
Staff reporter Howard Fine can be reached at hfine@labusinessjournal.com or (323) 549-5225, ext. 227.
For reprint and licensing requests for this article, CLICK HERE.