A Look Ahead: What's on the agenda for Los Angeles business in the coming week
POLITICS: Pot fundraiser's organizers hope to turn up heat on L.A. city officials.
Friday, August 12, 2016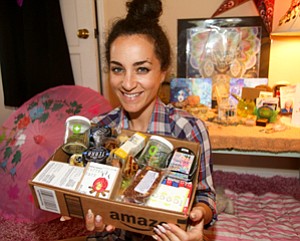 Call it a pot fundraiser – not to buy weed but to raise money to wield more clout at City Hall.
Aug. 21 will see medical marijuana industry activists and a sprinkling of celebrities gather on the "green carpet" at the Wanderlust yoga studio and café in Hollywood. The goal: to raise about $30,000 to fund two medical marijuana groups to pressure city of L.A. officials to open up the industry.
Under a new state law, every medical marijuana business must next year be licensed by its local municipality. Cities and counties can draw up their own rules as to who is eligible for the licenses and who is not; L.A. city officials are now drawing up their plan. (That law is distinct from a controversial initiative on the November ballot that would legalize the sale and use of recreational marijuana in California.)
Voters in Los Angeles passed Measure D three years ago, capping the number of medical marijuana businesses at 135, the number of dispensaries that were operating when the city passed a moratorium on dispensary businesses a few years earlier.
While existing dispensaries have been pushing hard for the city to give them priority in any new licensing system, hundreds of other medical marijuana businesses – including cultivators, delivery services, edibles manufacturers, and marijuana oil extractors – want to compete on equal footing. They have spent the last several weeks mobilizing and building their own war chest for the upcoming battle, which might include one or more ballot measures in March.
"We want the city to open up licensing to all segments of the industry," said Leah Abdenour, who shut down her West L.A. medical marijuana delivery business in May after receiving a warning letter from City Attorney Michael Feuer that her business was considered illegal.
Right after closing her business, Abdenour organized a fundraiser that netted about $20,000 for the Los Angeles Citizen Task Force on Medical Cannabis Regulation, an advocacy group formed earlier this year. Organizers behind this weekend's fundraiser hope to raise about $30,000 for the task force and for another group: the California Growers Association, which represents marijuana cultivators. The California Cannabis Delivery Alliance, representing delivery services, is also a major sponsor of the fundraiser.
The goal, according to organizer Justin Carangi, chief executive of Organic OC of Lake Forest, is for those organizations to have enough funds to hire a lobbyist to make the case to city officials that they should be included in the new licensing system.
Organizers have extended invitations to A-list celebrities to attend, though at press time they could not confirm whether any had committed to the event.
Premoratorium dispensaries deny they are trying to monopolize the market.
"We're not about limiting who is a part of this industry," said Jerred Kiloh, owner of the Higher Path medical marijuana dispensary in Sherman Oaks and president of the UCBA Trade Association, which represents most of the premoratorium dispensaries. "We just want to be first in line for licenses because we're the ones who followed all the rules."
For reprint and licensing requests for this article, CLICK HERE.