Business Groups Put 'Job Killers' in Cross Hairs
POLITICS: Legislation to extend cap-trade program among bills drawing fire.
Friday, August 5, 2016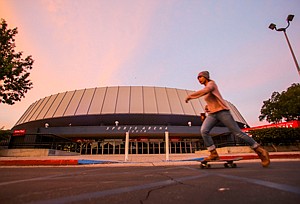 Business groups are targeting roughly a dozen key bills still remaining in Sacramento during the closing weeks of the legislative session.
Nine of the bills are on the California Chamber of Commerce's "job killer" list, including a bill to extend the state's cap-and-trade greenhouse gas emission reduction program; a series of bills to increase permitting costs for recycling, oil and gas facilities; and a bill eliminating the exemption for agricultural workers from daily overtime requirements.
"California has areas that are booming economically and other areas that are stagnating," said Allen Zaremberg, the chamber's chief executive. "Each part of California has unique problems and these job killers will negatively impact economic growth."
Two of the state's other major business groups have their own lists of bills. The California Manufacturers and Technology Association is opposing a bill to establish a heat illness standard for indoor workers and another bill that would allow state officials to add members to the South Coast Air Quality Management District's governing board.
Meanwhile, the California chapter of the National Federation of Independent Business is opposing a bill requiring janitorial businesses to register with the state, pay a $500 fee and provide sexual harassment training. Also on the NFIB's list is an expected bill requiring employers to provide 12 weeks of maternity and paternity leave for their workers.
"We are prepared to put forth every effort to protect small business in these final weeks," said Tom Scott, director of NFIB-California.
The federation also warned of another perennial legislative threat: the "gut-and-amend" frenzy that takes place near the end of each session. Legislators take an innocuous bill, strip the existing language and insert new language, often from another bill that failed earlier in the session. The new bill then goes straight to the floor without committee hearings or votes, which critics say is a way to avoid public scrutiny. The NFIB expects a "gut and amend" procedure to revive the parental leave bill.
City Loan?
The Los Angeles City Council late last week was expected to discuss and likely vote to submit an application to the federal Housing and Urban Development Department for a $22.5 million loan to help finance the construction of part of a soccer stadium complex on the site of the old Sports Arena in Exposition Park.
The Los Angeles Football Club – led in part by entertainment and sports mogul Peter Guber with sports luminaries Earvin "Magic" Johnson and Mia Hamm Garciaparra on its ownership roster – has estimated the cost to build the 22,000-seat stadium at around $250 million.
Prev Next
For reprint and licensing requests for this article, CLICK HERE.