Cloudy Future For Solar Sales
ENERGY: Utilities' proposals would cost installers, customers.
Monday, November 2, 2015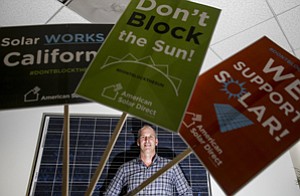 For years, government policies have been very friendly to Kevin Bauer's rooftop solar panel installation business. Hefty tax credits helped his customers buy the equipment and regulations allowed them to sell their excess power back to their electric utility on favorable terms.
But now, Bauer, chief executive of Brentwood's American Solar Direct, fears those generous government policies are about to flip 180 degrees, threatening to slash future revenue – and might even mean lights out for his business.
In the next few weeks, the California Public Utilities Commission must decide on a new set of rules governing the relationship between the state's three major investor-owned utilities and the homeowners and businesses that choose to use solar energy.
On the table now are proposals from each of the utilities – Pacific Gas & Electric, Southern California Edison (a subsidiary of Edison International in Rosemead) and San Diego Gas & Electric – that would slap monthly fees on homeowners and businesses that opt to go solar and chop by at least half the rate at which they will be compensated for sending solar-generated power back to the grid.
The utilities say these steps are necessary to offset the revenue they lose as tens of thousands of customers switch to solar rooftop power. Otherwise, nonsolar customers would face sharp rate increases because it will still take the same amount of money to maintain the grid.
But Bauer's company and dozens of other solar rooftop panel installers throughout the state fear these changes – along with the pending expiration of federal solar tax credits next year – will mean solar rooftop power will no longer be a financially viable option for most homeowners and businesses. That in turn would cause customer signups to plunge, sending revenues into a tailspin.
"We don't think the proposals on the table allow customers to truly have a viable choice for solar," Bauer said. "This will have a dramatic effect on the number of customers who sign up, both at our company and throughout the industry."
Deadlines near
The current system of compensating homeowners and businesses for solar rooftop power they send back to the grid – called "net energy metering" – goes back nearly 20 years and was designed to spur the growth of the industry and help meet renewable energy goals.
Essentially, when solar panels generate more electricity than the homeowner or business consumes, the excess is sent back on the grid and the homeowner or business gets compensated at the going market rate, which currently ranges between 18 cents and 24 cents a kilowatt hour.
So, during summer months, many homeowners with solar rooftop power pay little or nothing on their electric bills – amounts of $5 a month are common.
The system has worked as intended to spur growth in solar signups. There are now more than 250,000 rooftop solar systems statewide – the vast majority being homeowners – generating 11,400 megawatts when running at peak capacity. That's the equivalent of eight to 10 natural gas-fueled power plants.
But this cushy deal for solar customers could soon evaporate. A bill, AB 327, passed two years ago mandates an end to the current system. It caps the current net metering system when total electricity produced by solar rooftops equal 5 percent of each utility's total generation capacity. For Edison, that's expected to occur in early 2017.
The bill also requires the Public Utilities Commission to approve a new net metering system by the end of this year that will take effect once each utility hits that cap. The commission is set to release its final plan later this month and vote on it in December. And if the utilities get their way, solar households and businesses might face a much less favorable economic climate.
Covering costs
Currently, the utilities are allowed to charge residential solar rooftop customers $10 a month to help defray grid maintenance costs. Rates vary for business customers, but one with a system generating an average of 40,000 kilowatt hours a month might have an $80 monthly bill.
Existing customers would keep that deal until the 5 percent caps are hit. After that point, incoming customers would get the new deal.
Edison's proposal calls for a monthly fee of $3 a kilowatt for future residential solar customers – which comes to about $20 a month for a typical system – and 2.4 cents a kilowatt hour for nonresidential customers. That means a commercial customer like the one in the example would face a monthly charge of nearly $1,000, about a 12-fold increase.
What's more, Edison's plan would credit all solar rooftop customers just 8 cents a kilowatt hour for power they send back to the grid, roughly a 60 percent cut from the current market rate.
Edison executives say the current system gives customers with solar rooftop panels a huge financial advantage and pushes roughly $16 billion in grid and system maintenance costs over the next decade onto nonsolar customers. They also contend that the solar industry no longer needs such hefty incentives.
"The existing net energy metering program was designed to encourage the installation of residential rooftop solar at a time when it was very expensive to do so," said Caroline Choi, vice president of energy and environmental policy at Southern California Edison.
Choi said that even with the proposed changes, there is still enough of a financial incentive for homeowners and businesses to switch to solar.
But solar industry leaders and some recent solar customers strongly disagree.
The California Solar Energy Industry Association, a Sacramento trade group advocating for the industry, has put out an analysis of the utility proposals that says the current savings for solar customers of roughly 23 percent off their previous power bills would dwindle to about 1 percent under Edison's proposal.
"These monopoly utility companies are trying to take away choice for consumers," said Bernadette del Chiaro, the trade group's executive director.
American Solar's Bauer agrees, noting that it's the promise of substantial savings off the power bill that has brought in most of his 5,500 residential customers around the state.
He added that his and other companies are already cutting costs to offset the expected loss of federal tax credits. Residential and commercial solar rooftop customers that pay in full, up front for their solar panel systems can claim 30 percent of the installation cost as a credit on their income tax forms for that year. The residential solar tax credit expires at the end of next year and the commercial credit drops to 10 percent, unless Congress acts to extend them.
Lured by savings
Both the tax credit and the promised utility bill savings drew Santa Monica resident and social media marketing executive Tony Harris to American Solar. Harris paid for his $15,000 solar panel system up front, which means he is counting on those savings to recover that cost. Because he will be grandfathered in under current rules, he should still realize them. But had Edison's proposal already been in effect, he believes he wouldn't have.
"The utilities are being transparently greedy here," he said. "When I use my solar power, that means Edison doesn't have to generate that power for me – they are saving money there. Yes, I may be giving them less money, but I'm also taking less power from them."
Torrance City Councilman and solar power activist Tim Goodrich signed up with Torrance's Verengo Solar this summer – specifically to get in before the current net metering system ends. Although he's passionate about solar energy, Goodrich said money is tight and it would have been a stretch to be able to afford an installation if not for the current rules.
"I probably would not have switched to solar if savings were miniscule or nonexistent," Goodrich said. "That's why I made sure to get in before any changes to net metering take effect."
Indeed, if the CPUC approves a plan similar to the utility proposals, solar industry executives predict a rush of customers before the current system ends. Then they predict a sharp falloff.
They note that in the Phoenix area, a system very similar to what the California utilities have proposed took effect at the beginning of the year. After a seven-month spike at the end of last year, new rooftop solar signups among customers of the Salt River Project utility plunged 95 percent early this year.
But Verengo's new chief executive, Anders Dahl, doesn't believe dark days are necessarily imminent for his company.
He believes the drop in signups will be temporary, until both solar companies and homeowners adapt to the new system. Verengo is one of the larger solar rooftop installers, with 13,000 customers.
"Yes, I'm opposed to the utility proposals because they are completely unnecessary," Dahl said. "But I believe as an industry we still have more efficiencies to capture and we will have batteries and other energy storage devices to help the consumer achieve even more savings. So rooftop solar is not going to disappear."
For reprint and licensing requests for this article, CLICK HERE.