Cloudy Future For Solar Sales
ENERGY: Utilities' proposals would cost installers, customers.
Monday, November 2, 2015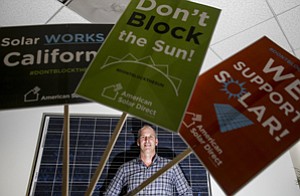 For years, government policies have been very friendly to Kevin Bauer's rooftop solar panel installation business. Hefty tax credits helped his customers buy the equipment and regulations allowed them to sell their excess power back to their electric utility on favorable terms.
But now, Bauer, chief executive of Brentwood's American Solar Direct, fears those generous government policies are about to flip 180 degrees, threatening to slash future revenue – and might even mean lights out for his business.
In the next few weeks, the California Public Utilities Commission must decide on a new set of rules governing the relationship between the state's three major investor-owned utilities and the homeowners and businesses that choose to use solar energy.
On the table now are proposals from each of the utilities – Pacific Gas & Electric, Southern California Edison (a subsidiary of Edison International in Rosemead) and San Diego Gas & Electric – that would slap monthly fees on homeowners and businesses that opt to go solar and chop by at least half the rate at which they will be compensated for sending solar-generated power back to the grid.
The utilities say these steps are necessary to offset the revenue they lose as tens of thousands of customers switch to solar rooftop power. Otherwise, nonsolar customers would face sharp rate increases because it will still take the same amount of money to maintain the grid.
But Bauer's company and dozens of other solar rooftop panel installers throughout the state fear these changes – along with the pending expiration of federal solar tax credits next year – will mean solar rooftop power will no longer be a financially viable option for most homeowners and businesses. That in turn would cause customer signups to plunge, sending revenues into a tailspin.
"We don't think the proposals on the table allow customers to truly have a viable choice for solar," Bauer said. "This will have a dramatic effect on the number of customers who sign up, both at our company and throughout the industry."
Deadlines near
The current system of compensating homeowners and businesses for solar rooftop power they send back to the grid – called "net energy metering" – goes back nearly 20 years and was designed to spur the growth of the industry and help meet renewable energy goals.
Essentially, when solar panels generate more electricity than the homeowner or business consumes, the excess is sent back on the grid and the homeowner or business gets compensated at the going market rate, which currently ranges between 18 cents and 24 cents a kilowatt hour.
Prev Next
For reprint and licensing requests for this article, CLICK HERE.