High on Dry
LANDSCAPING: Sales of drought-resistant plants blossom at nurseries with help from government subsidies to cut back on grass.
Monday, March 30, 2015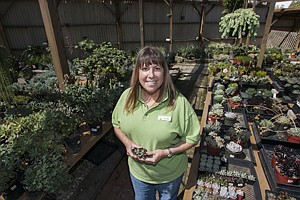 For many outdoor growers, California's worsening drought is bringing misery and hard choices. But for Ellyn Meikle, it has presented a business opportunity: the chance to open up a nursery specializing in drought-tolerant plants.
Meikle, a gardening hobbyist, opened the Water Wise Garden Center last spring on a small parcel she leased on Crenshaw Boulevard in south Torrance and began selling succulent plants, cacti and orchids, all of which do well in Southern California's increasingly arid climate.
Her business has been booming ever since. Meikle said that she's done more in sales in the first three months of this year than the nearly seven months she was open last year.
"Had it not been for the drought, I probably would have kept up my little home business and not started a formal business," she said. "But with the drought, and this property that became available, it was God's way of saying it's time to start my business."
Meikle is not alone. Other nurseries specializing in drought-tolerant plants have also seen their business grow over the past 15 months, ever since Gov. Jerry Brown first declared the state in a drought. And still others have switched over much of their plant stock to these water-stingy plants.
They're benefiting not only from rising consumer awareness of the drought, but also from an increasing array of incentives and rebates from local water agencies pushing conservation.
Cash for turf
The Los Angeles Department of Water & Power, water wholesaler Metropolitan Water District of Southern California and numerous other local agencies offer "cash for turf" programs, which give customers anywhere from $2 to $3.75 for every square foot of lawn they tear up and replace with low water-use plants.
Besides the cacti and succulents that typically come to mind for their water stinginess, dozens of native species also consume small amounts of water and generally qualify for the cash-for-turf rebates – from the Carmel-Sur Manzanita ground cover to the Santa Barbara daisy plant. Plants found in other Mediterranean climates around the world, from Australia to the Middle East and northern Africa, also qualify.
These rebates have been driving traffic into at least one local nursery specializing in drought-tolerant plants.
"We've got people coming in from Glendale, Burbank and Los Angeles all mentioning these rebates they will collect if they remove their lawns," said Malinee Romero, garden designer and saleswoman at the California Cactus Center in Pasadena. Romero and her five sisters co-own the nursery their father, an emigrant from Thailand, founded 40 years ago.
Prev Next
For reprint and licensing requests for this article, CLICK HERE.