DWP Powers Up Solar Company
ENERGY: PermaCity's business heats up with multibuilding deal.
Monday, February 9, 2015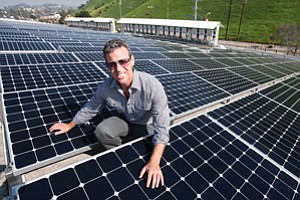 For more than a decade, Santa Monica's PermaCity has been a small player in the smallest corner of Southern California's solar industry, installing solar panels atop commercial and industrial buildings.
But as that part of the local solar market shows signs of life, PermaCity is stepping into the spotlight, winning two big contracts over the past year and becoming a significant player in L.A.'s rooftop solar industry.
Through a deal set to be announced last week, the company will install solar panels on top of as many as 30 buildings in Los Angeles, enough to generate 22 megawatts of electricity, as part of a contract issued by the Los Angeles Department of Water & Power. It's one of the biggest deals ever for rooftop solar development in the city.
That deal follows one PermaCity reached in the summer to install solar panels on the roof of clothing retailer Forever 21's headquarters in Lincoln Heights. Activated late last month, the 15,500 panels can generate 5 megawatts of electricity – enough to power nearly 1,450 single-family homes and to make it the largest single commercial rooftop solar installation to date in Los Angeles.
PermaCity posted revenue last year of between $20 million and $30 million; over the 18 months of the new contract, Jonathan Port, PermaCity's founder and chief executive, said he expects revenue to grow by about 40 percent.
"This is a huge deal for any company and is definitely a game-changer, both for us and for Los Angeles," he said.
Lagging market
Residential solar rooftop projects have taken off over the last few years, making household names out of residential specialists Verengo Solar in Torrance and SolarCity in San Mateo. But solar development on top of commercial and industrial properties has lagged behind, although SolarCity recently installed a big array on the MillerCoors brewery in Irwindale. (See story, page 8.)
The amount of power produced by commercial rooftop installations grew by single digits between 2012 and last year, while power produced by residential installation more than doubled in that time, according to Washington trade group Solar Energy Industries Association.
A handful of obstacles have kept commercial building owners from joining the solar rush, most notably aging roofs that need to be replaced, said PermaCity's Port. In the years after the recession, building owners held off on paying for new roofs and other maintenance projects, and it doesn't make sense for them to install solar arrays on roofs that will need to be replaced in just a few years.
Prev Next
For reprint and licensing requests for this article, CLICK HERE.